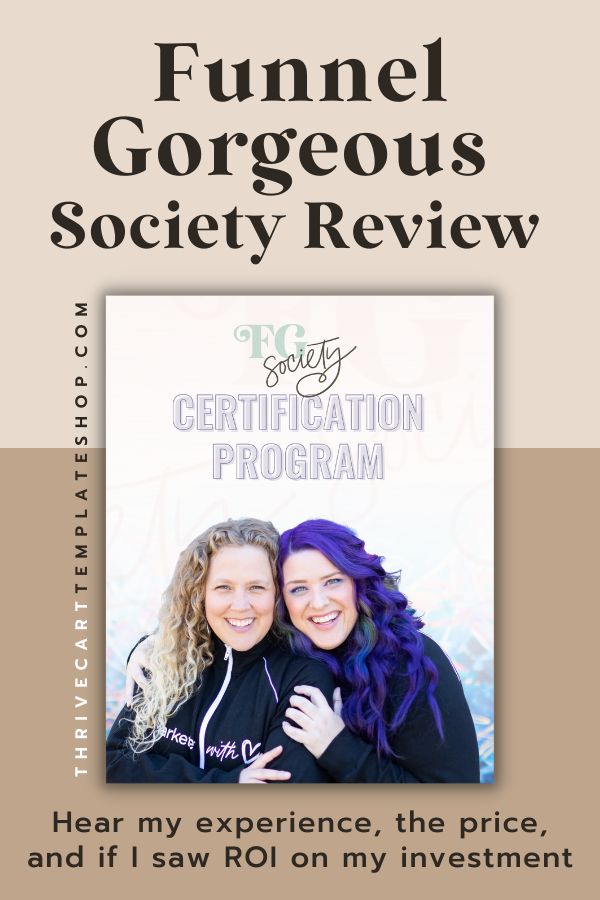 If you landed here on this blog post, you were probably searching for 'Funnel Gorgeous Society Reviews' or 'FG Society Reviews'. I've wanted to write this in-depth review of FG Society since I joined over 2 years ago, as it is one program I'm often asked about.
So, if you're considering signing up for Funnel Gorgeous Society and getting certified as a triple-threat marketer, keep reading!
What Is Funnel Gorgeous Society?
In a nutshell, Funnel Gorgeous Society is an online marketing certification training program that teaches you how to grow your business using digital marketing tactics such as sales funnels. As part of the program, you get access to tons of great resources in the member's area, including tutorials and step-by-step training modules on everything related to sales funnels.
While there are many different options for learning digital marketing today, what makes FG Society stand out is its commitment to delivering actual results for marketers at all skill levels.
To be certified as a triple-threat marketer, you need to take all 3 phases of the certification program within 12 months (and pass your exams). Certification is not required, but many people opt to get certified as there are so many extra benefits.
The 3 core phases of FG Society are:
– Phase 1 – Offers: Creation and Strategy
– Phase 2 – Sales Funnel Copywriting
– Phase 3 – Sales Funnel and Sales Page Design
My Favorite Things About FG Society:
1) The Creators: Julie and Cathy
FG Society was created by Julie Stoian and Cathy Olson of Funnel Gorgeous. They are both fantastic, and their passion for helping marketers succeed really shows! FG Society was the first four-figure investment in my business that I bought with zero hesitation. A big reason why I was so confident to make that decision was that I knew how well Julie and Cathy knew their stuff.
While it is a significant investment (we'll get into that even more later), it was definitely a good decision!
2) The Level of Support
There is a really supportive community of people in FG Society, and everyone is always happy to help out. Whether you have a question about sales funnels or need support with an issue, there's always someone available to lend a hand, in addition to the weekly live Q&A call inside the community and the monthly call for certified marketers directly with Julie and Cathy.
3) The Program Content and Training
I LOVE the program content and training throughout each phase of the certification program. Every video is short, actionable, and very easy to consume.
There isn't so much content that it's overwhelming, but there is enough to cover absolutely everything you need to know.
In the 2 years since I first signed up for Funnel Gorgeous Society, I am still referring back to some of the content and training materials for a refresher. If you're serious about growing your sales funnel knowledge and digital marketing skills, this is the BEST program for you.
4) The ROI
My personal results and ROI for this program aren't super uncommon. This program works! My ROI was 400% within weeks. You read that right: 400%!
I paid $3,000 for the Funnel Gorgeous certification program and made $12,000 in client work building my first high ticket funnel, after only a couple of weeks of completing the program.
In the 2 years since taking this program, I can attribute making multiple 6-figures to this program and the skills that I learned. That's the power of a program like this. The ROI just keeps on giving!
Who Is Funnel Gorgeous Society a Good Fit For?
If you're a business owner, entrepreneur, or marketer who wants to learn the latest digital marketing strategies and grow your business online, then Funnel Gorgeous Society is definitely for you.
You don't need to specialize as a funnel designer, copywriter, or strategist – unless you want to. You can become certified as a business coach or service provider to up-level your marketing skills.
However, if you do want to become a sales funnel strategist, designer, or copywriter, I 100% recommend and strongly encourage you to become a triple-threat marketer.
Do You Need to Use FG Funnels?
One big question a lot of people ask is about FG Funnels. FG Funnels is Julie and Cathy's sales funnel software, but you don't need to use FG Funnels in order to become Funnel Gorgeous certified. You could, but you can also continue to use whichever software you prefer, such as Clickfunnels, Leadpages, Kajabi, etc or WordPress with Elementor Pro like I did.
Funnel Gorgeous Society Cost
What does Funnel Gorgeous Society cost? It's not a low-cost program, and for a good reason! Because of the level of content, training, support, and ROI, it could cost a lot more (in my opinion).
Each of the 3 phases costs $1,000, so your full certification costs around $3,000. There is also a $500 annual renewal fee to keep your certification active. You do not need to re-submit or pass any new exam for renewals. It is strictly a renewal fee to keep your community access and certification active.
Funnel Gorgeous Society: Is It Worth It?
In my opinion, Funnel Gorgeous Society is absolutely worth it. The program provides you with all of the latest digital marketing strategies and tools that you need to grow your business online.
It offers a supportive community of marketers who are always available to help you succeed, and the ROI is incredible. Funnel Gorgeous Society is the perfect program for you whether you're looking to develop your funnel skills, copywriting chops, or digital marketing strategies. So sign up today and start growing your business!​
I wholeheartedly recommend signing up for Funnel Gorgeous Society! I'll see you and your triple-threat marketer status badge soon!
Other posts you may want to check out: