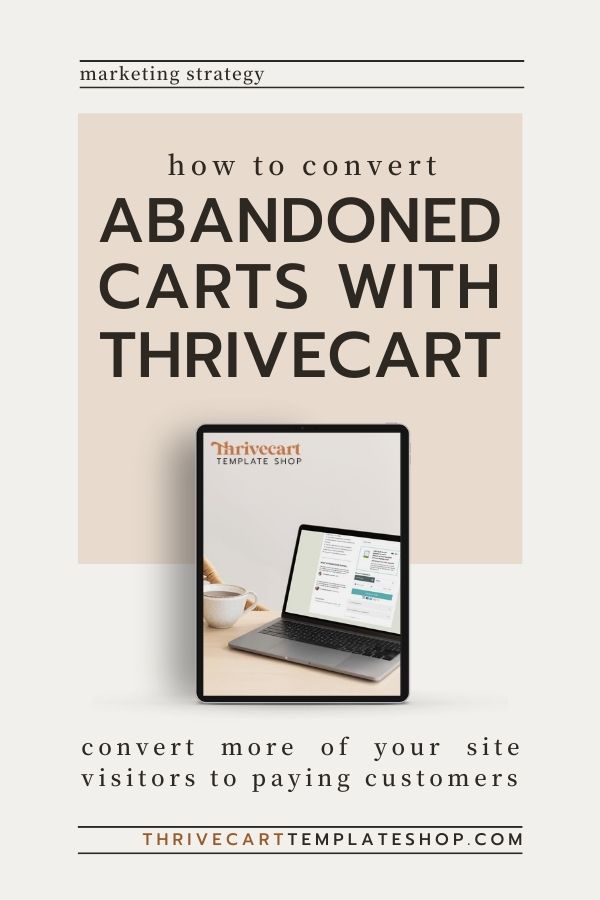 Hey, digital course creator! Do you have a problem with abandoned carts? If so, don't worry – you're not alone. A study by Baymard Institute found that the average abandon rate for an online store is 68.63%. That's a lot of potential sales that are slipping through the cracks!
If you're looking for a way to convert abandoned carts and increase your sales, look no further than ThriveCart. ThriveCart is a powerful e-commerce platform that makes it easy to create effective marketing campaigns and recover lost sales from abandoned carts. With its simple yet powerful features, you can effortlessly implement abandoned cart subject lines, emails, and automations.
In this blog post, I will show you how to use ThriveCart to convert those abandoned carts into sales.
Why Do People Abandon Carts During Checkout?
There are many reasons why people abandon their carts during checkout, including:
Long or complicated checkout processes that require too much information from the buyer
Confusing or unclear payment options
Unexpected shipping costs or delays in delivery times
They simply got distracted before being able to complete their purchase
Have you ever wanted to sign up for something and left the cart open in another browser tab? Yeah, me too! All of the time. This happens all the time with online shopping – our attention gets diverted, and we need to remember to make a purchase.
But this doesn't have to be the end of the story! With ThriveCart, you can easily recover abandoned carts by sending targeted email campaigns reminding customers about the products left in their shopping carts.
How to Convert Abandoned Carts Using ThriveCart
One of the fantastic features of ThriveCart is its powerful abandoned cart recovery system. This allows you to easily create and send targeted, automated emails to your potential customers who abandon their carts during checkout.
Why Should You Make Abandoned Carts a Priority?
If you're looking for ways to increase your store's revenue, recovering lost sales due to abandoned carts should be one of your top priorities. Not only is it an easy way to boost your profits without having to do much work, but studies have shown that recovered carts are responsible for as much as 40% of total revenue in some online stores.
That's a lot of money that you could be leaving on the table!
We've all received some gimmicky 'you forget something emails' from big-name stores, but they do work. Setting up an abandoned cart recovery process that aligns with your business values and is ethical is important.
Sometimes, customers appreciate a gentle reminder or nudge, so don't feel slimy or salesy for setting up an abandoned cart process.
ThriveCart Abandoned Cart Process:
First, you'll need to create your abandoned cart recovery sequence in ThriveCart. This is a simple process that involves setting up an email workflow, choosing the products and offers that you want to include, and customizing the emails with relevant content for each customer.
For each ThriveCart product, this is set up under the Behaviors tab as shown below:
As long as someone has entered their email address in the cart but has not completed their order, you can add them to a specific tag in your email marketing provider.
The next step is to create an automation inside your email provider, like ConvertKit, where the automation is triggered when someone is added to a tag. This way, you can have the automation include a delay of 1-24 hours before you start sending the abandoned cart emails.
Once you've set up your abandon cart email sequence, it will automatically send out based on the schedule that you have set. You can choose to give a discount or offer an incentive like free shipping in exchange for completing the order (but it's not required).
Abandoned Cart Email Subject Lines
There are many effective subject lines that you can use in your abandoned cart emails, including:
"Just a friendly reminder – your cart is waiting!"
"Saved your order! Here's how to complete checkout now"
"Quick! Finish your purchase – here's how to save 20% off today"
The important and ethical thing is to remember: don't spam them! They may have already made a firm decision not to buy, and that's okay. It's not your business WHY, but you can add a second email that is sent 24 hours later to anyone who still didn't buy the product. This email can include a very quick anonymous survey where they can tell you why they didn't buy.
If you listen to your customers and use the information they provide in your abandoned cart emails, you can make adjustments to improve your process and increase conversions. This data can be very helpful for moving your business, messaging, and offers forward. With ThriveCart, it's easy to recover lost sales and boost revenue for your online store!
Sample Abandoned Email Follow-Up Copy:
Abandon Checkout Subject Line: "I have a super quick favor to ask!"
"I know you decided not to purchase [PRODUCT NAME] right now, and that's cool. You've made the right decision for yourself right now, and that's all that matters. I would be super grateful if you could fill out this 2 question anonymous survey.
Your feedback and time are important to me! I'm always looking to find ways to improve, and I appreciate anything you're willing to share with me.
As a thank you for being here, here is a free gift just for you!"
This follow-up email provides some sort of free gift for their time and feedback, and it gives them value — even though they didn't buy. It shows that you care while also hoping to get some feedback to help your business move forward.
Feel free to use this swipe copy and tweak it as needed for your own brand voice! It's just a starting point, and if you know how to convert abandoned carts with ThriveCart, then the sky is the limit!
Are Abandoned Cart Emails Legal and GDPR Compliant?
This is a concern that a lot of entrepreneurs and business owners have. Yes, abandoned cart emails are legal AND are GDPR compliant. Abandoned cart emails are considered transactional emails. This is because a user that added a product to the shopping cart showed an intention to buy.
While they are GDPR compliant at this point (source) you can also choose to exclude sending abandoned cart emails to anyone who lives in Europe and would fall under GDPR.
Final Thoughts
Ultimately, it's important to remember that abandoned carts are a common and essential source of revenue for many online businesses, so don't leave money on the table. With ThriveCart and your efforts to recover abandoned carts, there's no need to miss out on these opportunities for new revenue.
Other posts you may want to check out: