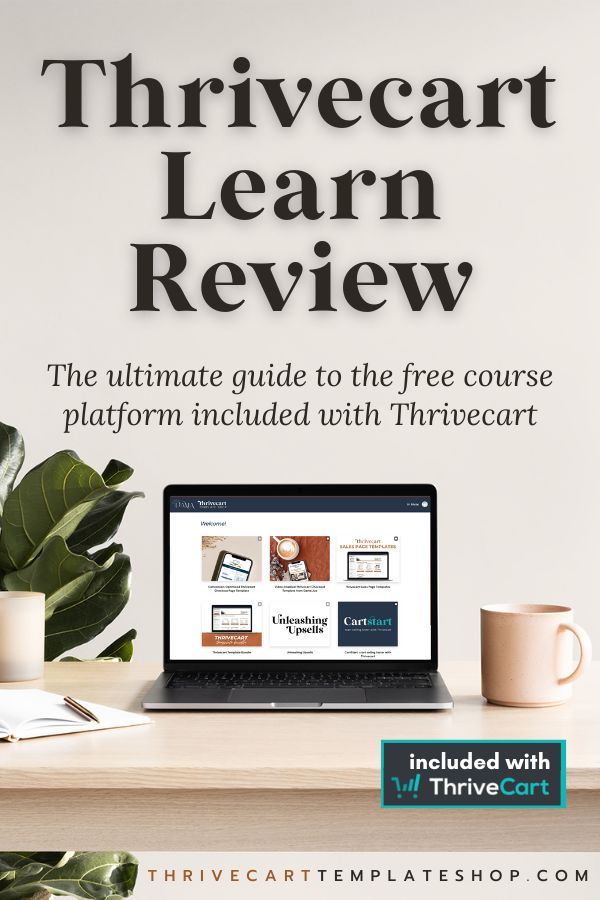 When ThriveCart first came out with ThriveCart Learn, I was beyond excited and knew that it would change the game for course creators. Because ThriveCart Learn is still relatively new as a course platform, I get asked about it all the time. In this blog, you will learn everything you need to know about using ThriveCart Learn.
If you're thinking about purchasing ThriveCart or switching your digital products and courses to ThriveCart Learn, keep reading!
What is ThriveCart Learn?
ThriveCart Learn is a course hosting platform from ThriveCart that was introduced in 2021. You can host courses, programs, digital products, and even memberships on ThriveCart Learn.
ThriveCart Learn Pricing:
ThriveCart Learn is included with your purchase of a lifetime ThriveCart account. The option to upgrade to the Learn+ version is available for an additional one-time price of $195.
ThriveCart Learn vs ThriveCart Learn Plus
What are some of the big differences between ThriveCart Learn and ThriveCart Learn+? I strongly recommend adding on the one-time upgrade to Learn+ because of these fabulous features included:
Bundles
You can easily create 'bundles' of products that someone will automatically be enrolled in by purchasing one product. This is an excellent feature if you want to sell bundles of products or automatically add access to a bonus.
Advanced Tagging and Sequences
With Learn+, you can tag certain purchasers and give them access to exclusive lessons (like for pay-in-full bonuses). There are many ways you can use the advanced sequences and tagging features!
Custom Subdomains
Want to have a custom subdomain for your courses and login? You can easily set this up in minutes with Learn+.
Student Imports
With Learn+, you can easily import students using a CSV file.
How to Use ThriveCart Learn and Learn Plus
ThriveCart Learn is super easy to use! Probably the most significant benefit of using ThriveCart Learn (especially if you're already using ThriveCart for your checkout pages) is no recurring fee. For the same type of features, on Kajabi, for example, you could be paying upwards of $199 per month.
Here's what it looks like when a student is logged in to my ThriveCart Learn Dashboard: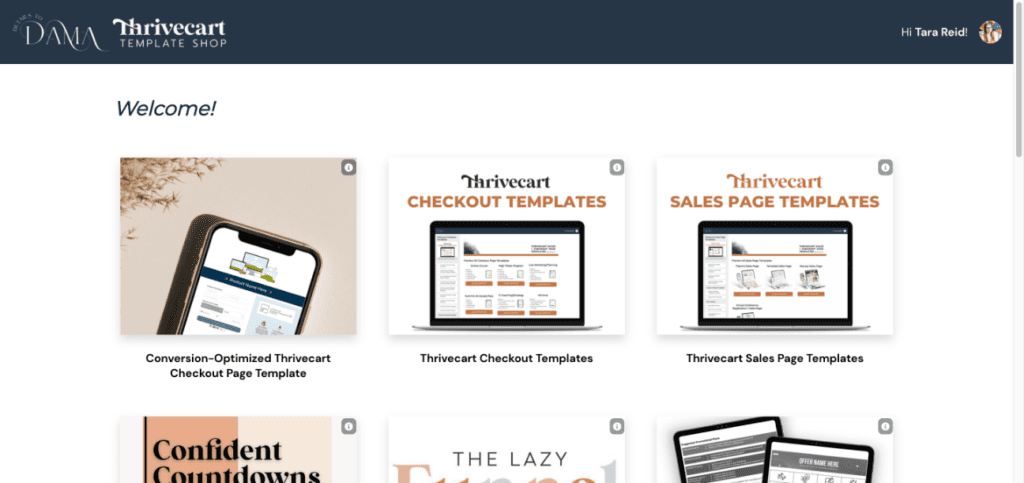 And here's how I've branded some of my individual courses hosted on ThriveCart Learn: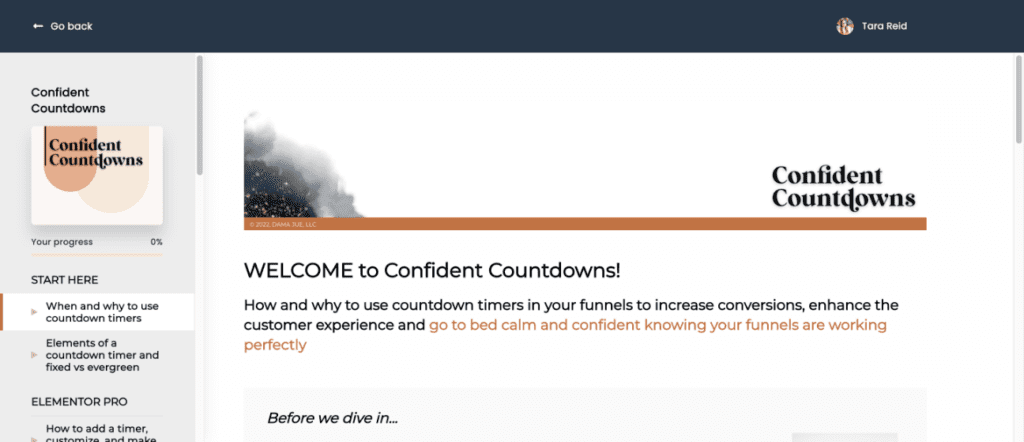 Your Biggest ThriveCart Learn Questions:
1) Is it possible to easily import students from another course platform?
Yes! If you purchase the one-time upgrade of Learn+, you can easily import students from a CSV file.
2) Can you host a membership on ThriveCart Learn?
You can! You would set up your checkout pricing as a subscription model and host the membership content inside ThriveCart Learn. The only drawback to a membership is that ThriveCart doesn't automatically figure out end dates.
For example: A customer signs up for an annual membership in March and cancels in August. They paid for a year, so they should still have access until the following March. However, ThriveCart removes access immediately. So, you might have to set up some back-end admin processes to make it work for you and your membership. See this article for tips on how to handle that.
3) How tech-savvy do I need to be to use ThriveCart Learn?
ThriveCart Learn is pretty easy to use once you get the hang of it. There are certain hacks you can learn to make things easier. If you get stuck, check out this epic resource for Thrivecart.
4) How can I add videos to lessons?
ThriveCart is not able to host videos. Any videos in ThriveCart Learn need to be embedded into the lesson from another video hosting service. The most popular options are Vimeo or, my personal choice – Screencast-O-Matic. I use it to record, edit and host all my course content..
5) How can I easily brand and customize ThriveCart Learn?
ThriveCart Learn is the most customizable course platform out there! You can customize everything to make it your own and match your brand. There are so many design settings!
Time-saving hack: For every new product you create – set up the branding, style, and various blocks as a 'template lesson' that you can duplicate. That way, all of your design settings are saved and will look cohesive.
ThriveCart Learn Review: Final Thoughts
I can't recommend ThriveCart Learn enough! If you're ready to say goodbye to the costly monthly fees and move things over to ThriveCart Learn – you won't regret it. ThriveCart Learn is powerful, easy to use, and flexible – the perfect combination for your online course business.
Curious how we're using Thrivecart for our full funnel solution – from sales page, checkout, affiliate program, upsells and course platform? Check out this free 15-minute behind-the-scenes video showing our complete Thrivecart setup.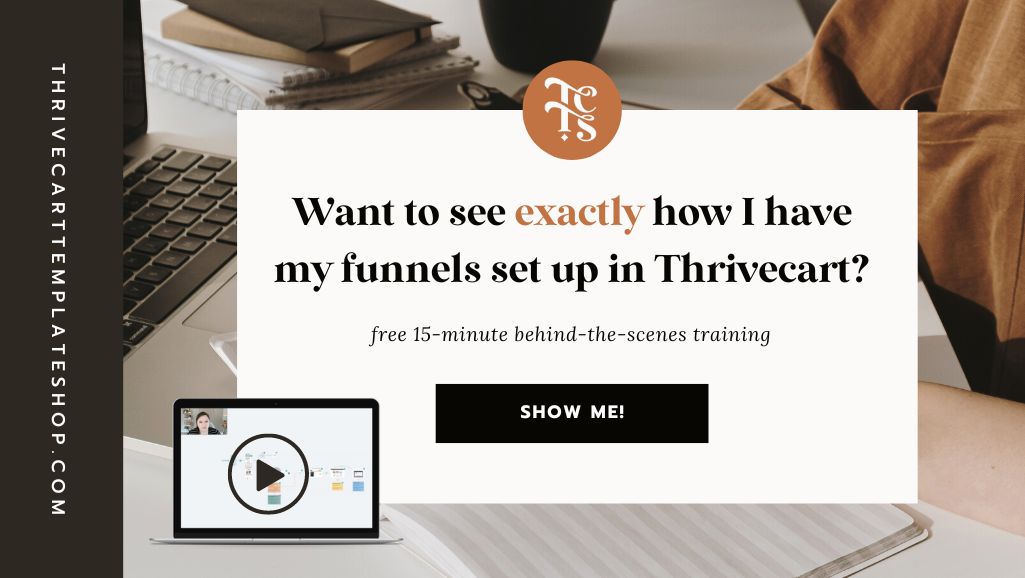 Other posts you may want to check out: