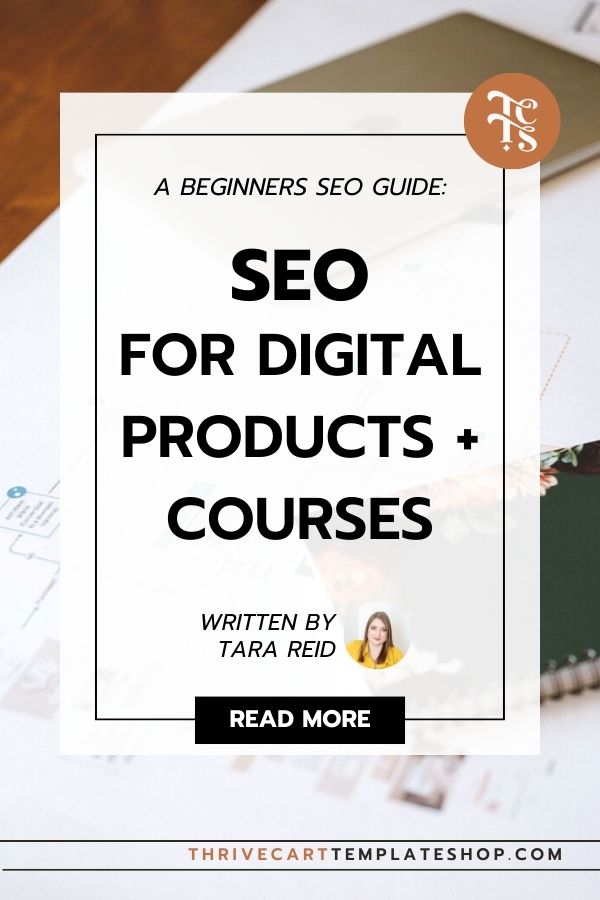 Want to know something that can drive hundreds or even thousands of new people to your digital products and courses? That's the power of SEO (search engine optimization). And I'll let you in on a little secret: most digital product sellers aren't utilizing this strategy for warm traffic so that just means it'll be slightly less competitive and easier for YOU.
Sounds pretty amazing, right?
I'm Tara and I learned SEO in the 1900s (haha, seriously, I started learning about it before the Y2K panic) and I loved how powerful it was. And, it doesn't have to be complicated or overwhelming!
In this blog post, we will break down SEO and how you can start to implement SEO on your digital product and course sales pages.
Is SEO Worth It?
Let's be real right off the bat: SEO is definitely worth it!
Most of the time this question is asked because SEO feels overwhelming, or because it is a long-term strategy. But, as I always say: it is a long-term strategy but that just means you'll be rewarded with long-term results!
There is no other traffic generation strategy that delivers such long-term results. My most popular blog posts in Google Search results right now are blog posts from 2 years ago. They are still bringing in hundreds of warm leads and traffic every single month.
Wait, do I have to blog to see SEO results?
Short answer: No, you don't have to blog to optimize your website and sales pages.
But, I do recommend it! The more pages and posts you have the more potential keywords you can rank for which means more traffic.
If you don't plan on blogging, I do recommend spending a little extra time than normal on your most important pages.
Beginners SEO Guide: What Matters With On-Page Optimization
In this post, we are talking all about on-page optimization. Off-page and technical SEO are two really different things.
On-page optimization is the easiest way to start with SEO because it's something that is more within your control.
So, what are the important ways to optimize your website and digital product checkouts or sales pages?
1) Your Page Title and Meta Description
Search engines like Google read this information first and it's how your page shows up in search results. It's the most important part of on-page optimization.
Here's an example:
Say I have a digital product called 'The Money Mastery Toolkit'.
The default for most website platforms and page builders is a title that is now, 'The Money Mastery Toolkit – Your Business Name'.
Is anyone searching for a money mastery toolkit? Not likely.
Instead, you'll want to use a primary keyword in your title and meta description that will attract the right people.
A primary keyword is one that has a decent search volume but has medium-low difficulty. If you try to rank for a keyword that has super high difficulty it's just a wasted opportunity.
The meta description is a short and clear description of the page that should of course include keywords! If you don't spend the time to write your own optimized meta description search engines will pull the first bit of text from your page which isn't always ideal (or optimized).
2) Your H1 Heading
Next up on the importance ranking of your on-page optimization is your H1 heading.
Here are a few guidelines to follow:
It should be the very first bit of text on the page.
It should include your primary keyword.
You only want to use a H1 tag once per page.
3) Your Other Headings
Next up are the other headings on your page. We want to use keywords in these headings where it makes sense.
This is where a balance between your SEO, design, and copy needs to come into play.
4) Your Page Copy
Where does it make sense to tweak your page copy (paragraph text) to insert your target keywords?
We don't want to overstuff keywords or make things not make sense. But there are usually simple ways you can insert more keywords into a sentence.
5) Mobile Friendly Results
Having a mobile friendly website is very important. If your page is super slow loading or has mobile issues that can definitely affect your search ranking.
Here are a few good tools to see how your page is performing on mobile:
6) User Experience
Along with mobile-friendly pages, other factors matter because of the user experience.
How long are people staying on the page? Are they bouncing and not visiting other pages?
You might want to install Hotjar to see how users are interacting with your website and see if there is any room for improvement.
7) Images
Optimizing your images can involve a couple of different things:
The File Size:
This mostly affects your website speed and therefore user experience. Try to keep images optimized as much as possible and reduce their size if possible.
Image ALT Tags:
ALT tags for SEO used to be a place where people would stuff keywords. That's not a best practice for accessibility.
ALT tags are there for visually impaired visitors who are using screen readers so having a string of keywords isn't a great experience.
Here's an example of how to use ALT tags correctly while maybe adding a keyword. In this example, the keyword is 'money management template'.
Photo: a mock-up of your digital product
ALT tag: A computer mock-up graphic showing a visual of the money management template
8) URL Structure
Finally, your URL or permalink structure matters, too.
Here's an example:
yourdomain.com/toolkit
The optimized version with a keyword:
yourdomain.com/money-mastery-guide
You can always set up a PrettyLink if you use WordPress or use any other redirect software so you can still use the short unoptimized link.
Thrivecart SEO Guide
Along with all of the tips above I wanted to make sure you know where the SEO settings are for your ThriveCart checkout pages.
Side note: this is also why it's a good idea to use a custom subdomain with ThriveCart or really any other platform.
When you are editing your product you will see a SEO Settings button.
This is where you can add your own optimized page title and meta description.
The Best Keyword Tools to Use
There are a ton of keyword research tools out there to help you with an optimization SEO strategy.
Remember: you can't skip this step. Your keyword research drives your entire SEO strategy and on-page optimization!
Here are some of my favorite keyword tools:
Final Thoughts
In conclusion, SEO is an invaluable tool that every digital product seller should leverage for increased visibility and traffic. With most sellers underutilizing SEO, there lies a golden opportunity for you to step in and make the most out of this strategy.
Remember, while SEO is a long-term approach, it promises long-lasting results, consistently driving warm leads to your digital products and courses.
This guide has equipped you with essential knowledge on on-page optimization, from optimizing titles, meta descriptions, headings, and images to ensuring mobile-friendliness and enhanced user experience.
But why stop here? Supercharge your journey by grabbing my SEO mini-course, an invaluable resource designed to deepen your understanding and application of SEO strategies. Dive in, and let's optimize together for a thriving digital presence!
Happy optimizing!
Other posts you may want to check out: