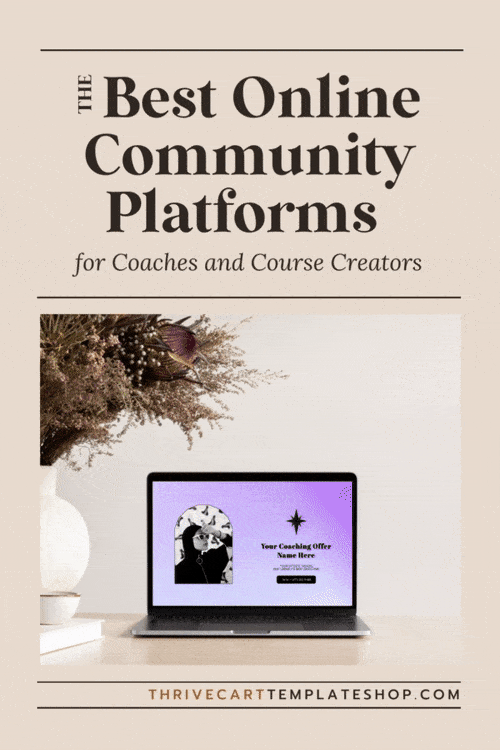 Selling courses or coaching programs with an online community platform is perfect for coaches and course creators. It also adds massive value to your program or offer! Lately, many new options have been popping up for creating a community, especially if you want to avoid having your community in a Facebook Group.
There are many options to choose from regarding online community platforms, but some of the best include Mighty Networks, Circle, and Heartbeat. These platforms make it easy for coaches and course creators to create online communities and connect with their audience more meaningfully.
If you're looking for an online community platform, keep reading!
Why Online Community Platforms Are Great for Coaches and Course Creators
A coach or course creator wears many hats. They need to be experts in their field, able to engage and motivate their students and have a clear vision for their course. In addition, they also need to be able to build and maintain an online community.
Online community platforms are great for coaches and course creators because they provide a central place for students to connect with each other and the instructor. They also offer a variety of features that can make it easier to manage a community, such as forums, private messaging, and group chat rooms.
In addition, online community platforms can also be a great way to promote a coach or course creator's business. By creating a branded space for their students, they can build name recognition and attract new customers.
The Benefits of Using an Online Community Platform
An online community platform can provide many benefits for its users. For starters, it can help to build a sense of connection and belonging among members. This is especially valuable for people who live in isolated areas or who have difficulty meeting new people in person. In addition, an online community can be an excellent resource for information and support. Members can ask questions, offer advice, and share helpful resources.
Whether looking for social interaction, emotional support, or practical information, an online community platform can be valuable.
In the past, most online communities were created as private Facebook Groups. That can still be an option for most coaches and course creators, but great options are available if you want something separate from Facebook.
Choosing the Best Online Community Platform For You
When it comes to online community platforms, there are many options to choose from. It can be difficult to figure out which is right for you. Here are a few things to think about that can help you narrow down your options.
First, think about what kind of community you want to create. Do you want a tighter circle of connections or a more open network? Platforms like Circle and Mighty Networks are great for creating smaller, intimate groups, while platforms like Facebook Groups are better suited for larger, more open communities.
Next, consider what kind of features you need.
For example, if you want people to be able to connect with each other in real time, then you'll need a platform that offers chat features. Or, if you need to be able to sell products or memberships directly through your community site, then you'll need a platform that supports e-commerce.
Finally, think about your budget. Most platforms charge monthly fees or discounted annual rate plans. Free community options are also available, like creating a private Slack channel for your students. Decide how much you're willing to spend and then narrow your choices down based on that.
Choosing the right online community platform can be easy. By considering your needs and budget, you can easily find the perfect platform for you.
Circle vs Mighty Networks
Two of the most popular choices are Circle and Mighty Networks. Both platforms offer a range of features that can help you build and manage your community effectively.
But which one is right for you?
If you're looking for an open, more social platform, Mighty Networks is probably a better fit. Its chat features and social feed are great for connecting with people in real-time and building relationships with your members. However, if you're looking to create a closed network or offer paid products or services through your community site, then Circle may be a better choice.
My Recommendation – Heartbeat
After considering all the factors, my recommendation is to use Heartbeat. This platform offers a range of features to help you build and manage your online community effectively. Plus, it's priced competitively and has an excellent reputation for customer support. They are constantly releasing new features, are super user-friendly, and their mobile app is straightforward to use!
Here's a look at how Heartbeat looks on desktop, along with some of my favorite features: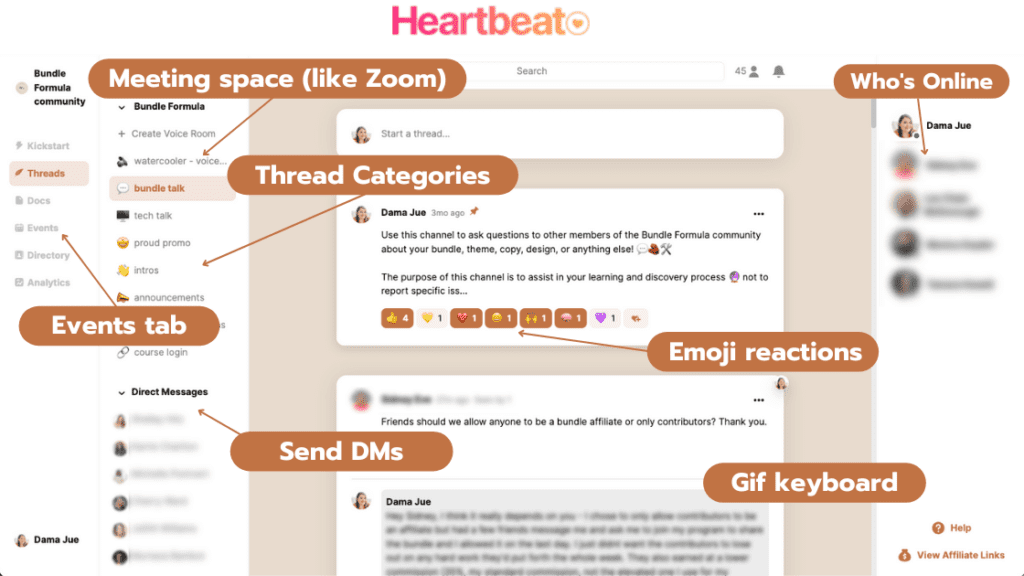 And here's a look at the mobile app: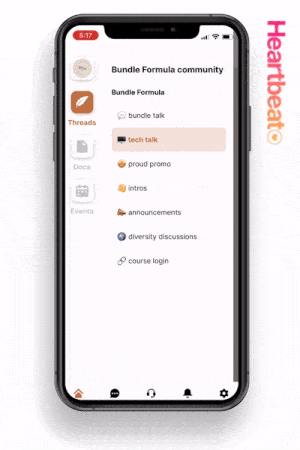 So if you want to create an effective and engaging online community, I highly recommend using Heartbeat. It includes all of the bells and whistles that the more popular choices have, but it's much more budget-friendly!
Final Thoughts
If you're a coach or course creator, an online community platform can provide a great way to connect with your audience and build a following. There are many advantages to using an online community platform, including the ability to create content, build relationships, and offer support.
When choosing an online community platform, it's important to consider your needs and goals. There are various features to look for in an online community platform, so be sure to research before making a decision.
Getting started with your online community platform is simple on Heartbeat – all you need is a plan and some time to set things up. With these tips in mind, you'll be well on your way to creating a thriving online community that helps you achieve your business goals.
Other posts you may want to check out: