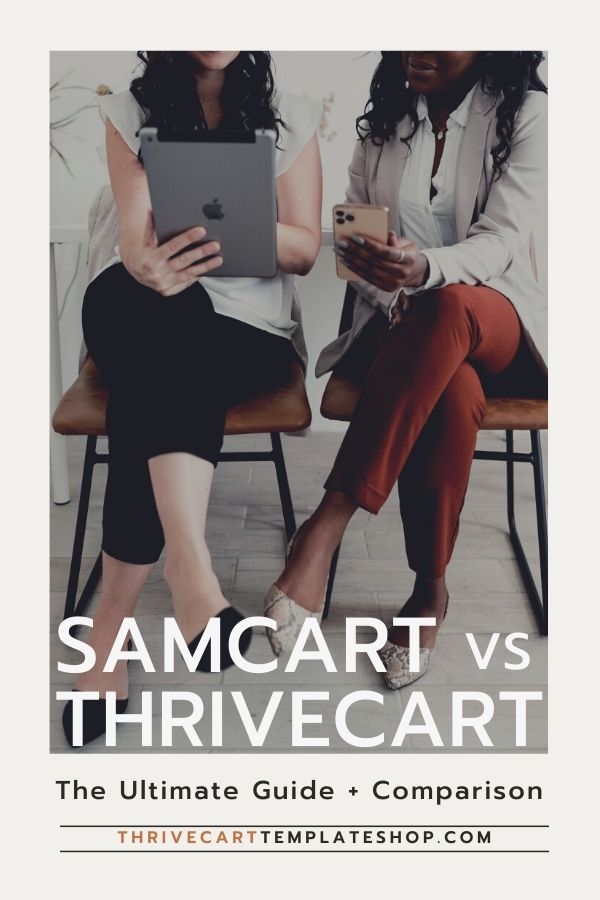 This blog post is for my course creators, coaches, and digital product empire builders! You probably know by now that I'm a little bit obsessed with ThriveCart. Because I love tech so much, I thought I would write a complete guide and comparison on Samcart vs ThriveCart.
Using the best tool for you, your business model, and your offers is always important. If you're curious if SamCart or ThriveCart is the best choice for you, keep reading!
What are ThriveCart and SamCart?
SamCart and ThriveCart are e-commerce shopping carts designed for online courses, programs, and digital products. With all of their extra features, like a built-in affiliate program, and course hosting, they are way more than that now.
ThriveCart and Samcart are both powerful e-commerce platforms that can accommodate all of your online business needs. There are tons of features in each platform, so it can be challenging to decide which is better for you.
ThriveCart vs SamCart
On the surface, ThriveCart and SamCart seem pretty comparable. There are some crucial differences and things to note, though! When you're looking for the right tool for your business, especially one that will be such a big part of your business, it's good to do a comparison check.
When it comes to online shopping carts, there are two that always seem to be at the top of the conversation: SamCart and ThriveCart. So, which one is the best? This guide will compare the two shopping carts and help you decide which one is right for you.
1) SamCart vs ThriveCart – Business Comparison
ThriveCart was launched in 2015, and the product was initially released in 2016. The company was founded by Josh Bartlett and has a powerful Facebook community of users.
SamCart was founded in 2013 by Brian and Scott Moran.
Both companies have found a lot of success with course creators and people selling digital products. I will note that 2021-2022 was tough on SamCart as they were called out for using screenshots of people's comments in a private Facebook group to promote their tool in ads they were running (eww).
2) SamCart vs ThriveCart – Pricing, Costs, and Fees
ThriveCart Pricing
One of the most significant benefits of ThriveCart is that they offer lifetime pricing right now. Any time you can save on a monthly fee or subscription, the better. ThriveCart pricing is currently $495 for a lifetime account or $495 + $195 for the Pro upgrade.
I definitely recommend going all-in and getting the pro upgrade, which includes advanced and custom features.
SamCart Pricing
SamCart currently offers three tiers of pricing levels – Launch ($59 per month), Grow ($119 per month), and Scale ($299 per month). To have all of the features that ThriveCart includes, you would need the Scale plan at $299 per month.
If you don't need all of those features and extras, you could likely get away with using their Launch or Grow plans for a bit.
3) SamCart vs ThriveCart – Feature Comparison
As I mentioned above, to get all of the extra features that ThriveCart includes with their Pro lifetime account, you'll need to compare it to SamCart's Scale plan at $299 per month. Below is a chart that compares all the features and extras included in both carts.
If you have any questions about if ThriveCart is right for you, feel free to check out this free ThriveCart mini-training.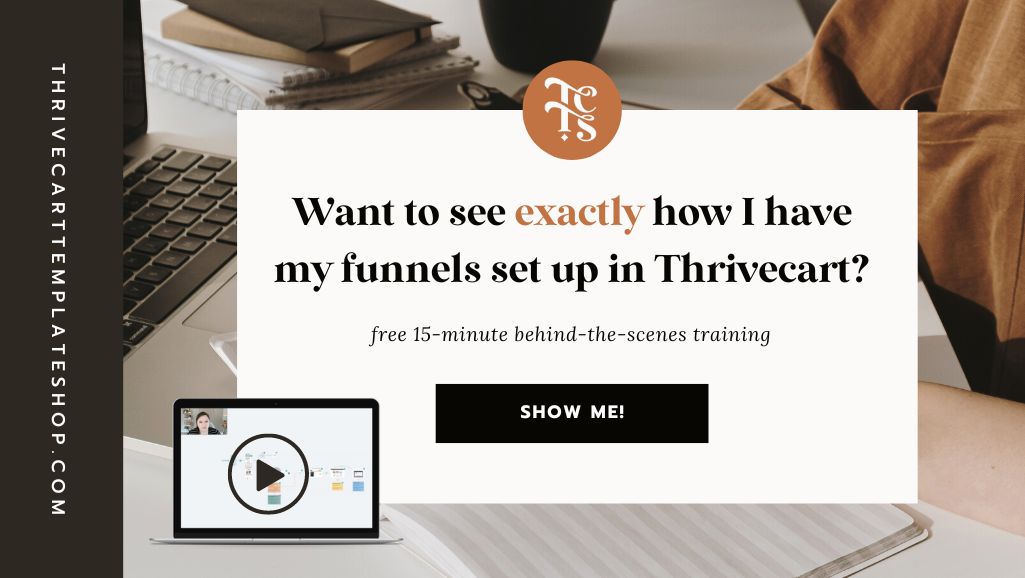 Unlimited Checkouts and Products
With both ThriveCart and any of SamCart's current plans, you get unlimited checkouts, products, and courses, which is always a bonus for a growing business.
0% Processing Fees
Both ThriveCart and SamCart never take a cut of your sales. You'll still have to pay your normal payment processing fees through Stripe or PayPal, but neither tool takes an additional percentage or fee.
Affiliate Program
Want to create your own affiliate program for your courses and digital products? No problem! ThriveCart has a pretty robust affiliate program, as does SamCart. With SamCart, the affiliate program option is only available on the highest-priced Scale plan.
Sales Funnels
Both SamCart and ThriveCart give you all of the tools you need to create a sales funnel, including bump offers, downsells, upsells, and tripwires. These options are only included in SamCart's Grow or Launch level plans, not their Launch plan subscription.
Video Uploads
One benefit that SamCart has over ThriveCart is the ability to upload and host unlimited videos within SamCart. ThriveCart doesn't offer video hosting capabilities, so you'll need to host your videos elsewhere, like Vimeo or my personal fave for screen recording + robust editing features with huge storage limits, Screencast-o-Matic, and embed them within your courses and lessons.
SamCart vs ThriveCart – Which is Better?
It's no surprise that I'm going to say ThriveCart is the clear winner! I've been using ThriveCart for several years and have learned this amazing tool inside and out. If you are creating courses, digital products, and even memberships, ThriveCart is the best investment for your business.
And do I need to mention 'no monthly fees' again?
I know many people who were stuck paying $200 – $300 per month for SamCart or Kajabi for years. While they work well, ThriveCart is the winner in my eyes, and I love seeing so many entrepreneurs move over to ThriveCart. If you are on the fence about which tool is best for your business, I highly recommend signing up for my free 15-minute ThriveCart training so you can see for yourself.
Other ThriveCart Resources:
Need help with all of the techy pieces of ThriveCart? Get my course, CartStart, and keep tech headaches from holding you back!
Other posts you may want to check out: