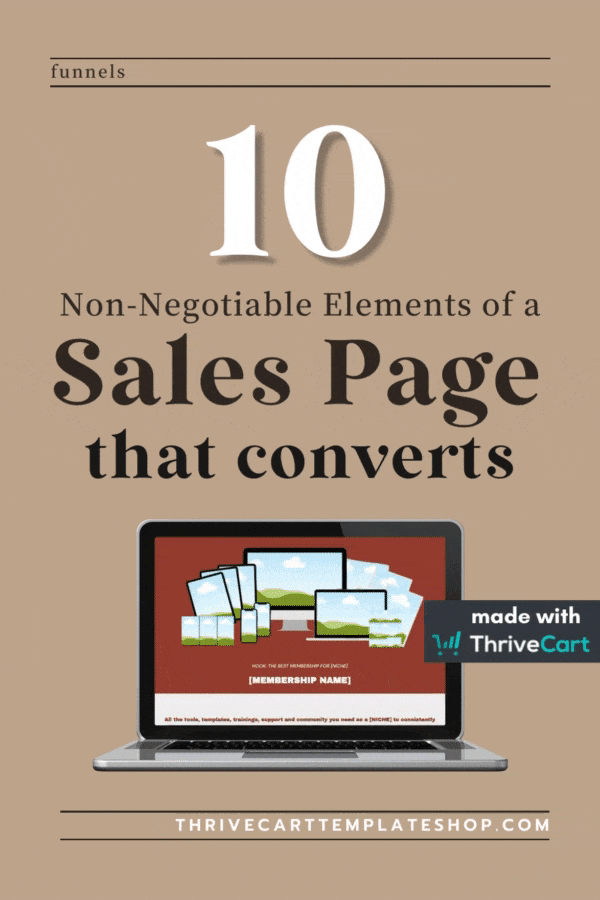 Whether you love or hate 'em, we all need sales pages in our business. If you're selling an offer, digital product, or service, you need to have a sales page that not only converts but covers everything someone needs to know. What are some non-negotiable elements of a sales page that you need to include to convert? This post will cover everything you need to know about creating the perfect sales page for your offer!
Landing Page vs Sales Page
You've probably heard both terms 'landing page' and 'sales page' before. Is there a difference? In short, yes.
A landing page is a standalone page that you use to capture leads, while a sales page is focused on generating sales. Both elements are crucial to any successful sales funnel and marketing strategy. In this post, we are focusing on sales pages with the goal of selling – not generating leads.
The Key Elements of a Sales Page That Converts
While there are many sales page formula guides out there, there are some main points that need to be included. These 10 non-negotiables are the anatomy of a sales page that converts.
1) The Headline
Without a powerful, compelling headline that grabs the reader's attention, you won't make any sales. Your headline should be simple and direct, conveying key elements of your offer in a few words.
Here are a few ideas for coming up with a sales page headline:
"Are you ready to ________________ without __________________?"
Example: Are you ready to create a sales page that converts without hiring a designer?
"[Offer Name]: Learn how to _____________ in ______________."
Example: Reels Growth Course: Learn how to create reels in 10 minutes without having to dance or lip sync.
"It's time to stop ____________."
Example: It's time to stop being the best-kept secret in your industry.
"What if you could _____________?"
Example: What if you could work fewer hours per week AND make more money?
2) The Problem
Every sales page should focus on a specific problem that the offer solves. Before you can convince someone to buy, you have to make it clear what they need and why they need it.
3) The Solution
Whether you're selling a service, product, or digital offering, your sales page should clearly outline the solution (hint: your offer is the solution to the problem they are dealing with) and how it solves the problem.
Along with the solution, your sales page should also focus on the benefits. For example, if you're selling a digital course, what will they learn, and how will it help them? What will they get from working with you if you're selling a service? People want to know the transformation and what's possible when they hit that buy button.
4) The Social Proof
In order to convince people that your offer is legit, you need social proof. This could be testimonials from clients and customers, case studies, or media mentions of yourself or your brand. Showing that other people have had success with your offering can give potential buyers the confidence they need to click buy.
5) The Brand Personality
Your sales page is the place to let your brand personality shine. This can be done through language, visuals, and tone of voice. Whether you're light and playful or direct and confident, make sure your page reflects who you are as a brand.
6) The Offer Details
In addition to the main elements listed above, you also need to provide detailed information about your offer. This includes things like pricing, product specifications, and deliverables. It's essential to be honest and transparent here – don't try and hide anything that might turn people away from clicking buy (like hefty fees).
7) The CTA (Call to Action)
Finally, your call to action (CTA) is key. You need to make it clear what you want your readers to do and then give them a way to do it. Whether that's clicking a button or filling out a form, be sure that the CTA isn't buried on the page.
You should have a CTA throughout the sales page to make it as easy as possible for people to buy without scrolling way back up the page to take action.
8) The Objections
No matter how good your sales page is, there will still be some people who aren't convinced. This is where you need to address any objections that your potential buyers might have. Address their concerns directly and outline the benefits of working with or buying from you.
9) The Visuals
Visual elements are a crucial part of any sales page. Whether that's using testimonials, highlighting product features and benefits, or using mockup images to show what your offer will deliver, it's important to use visuals strategically and effectively.
Don't forget to visually break up your sales page, especially if it's a long-form sales page!
And a final note on sales page design: white space is your friend. Make sure your sales page is easy to read, visually pleasing and has enough white space to flow well.
10) The Trust Factor
While some of the earlier points will help build the trust factor with your sales page visitors, like showing your brand personality and testimonials, there are other ways to build more trust. You can add a guarantee section (not required) and make sure your sales page has your legal pages set up correctly.
What legal pages do you need to have on your sales page?
This isn't legal advice, but generally speaking, you might need to have the following:
An income disclaimer
Terms and Conditions
Privacy Policy
If you need legal templates, check out Braden Drake's Contract Vault for everything you need to sell a course, membership, or digital product legally.
How to Create a High Converting Sales Page
Now that you know the 10 key elements of a sales page, you might ask, "Okay, Dama, but how do I create a high converting sales page?"
Use ThriveCart! It's not just for simple checkout pages. You can build all of your funnel and sales pages inside ThriveCart.
Here's an example of one of my ThriveCart sales pages for my templates. If you go with ThriveCart, I have built conversion-focused sales pages for different types of offers to make creating your sales page even easier.
⬥ Shop the ThriveCart Template Shop ⬥
If you struggle with sales page copy, too, I strongly recommend Damn Copy Templates. Sandra from Damn Copy is a sales page copywriter who knows her stuff. These cost-effective copy templates will help you craft copy that converts AND covers all of the sales page non-negotiables mentioned in this post.
Conclusion
Creating a high-converting sales page is all about effectively using the elements of sales page design. Whether you are selling a course, digital product, or other offerings, it's important to consider things like your brand personality, the offer details, and your call to action.
Other posts you may want to check out: