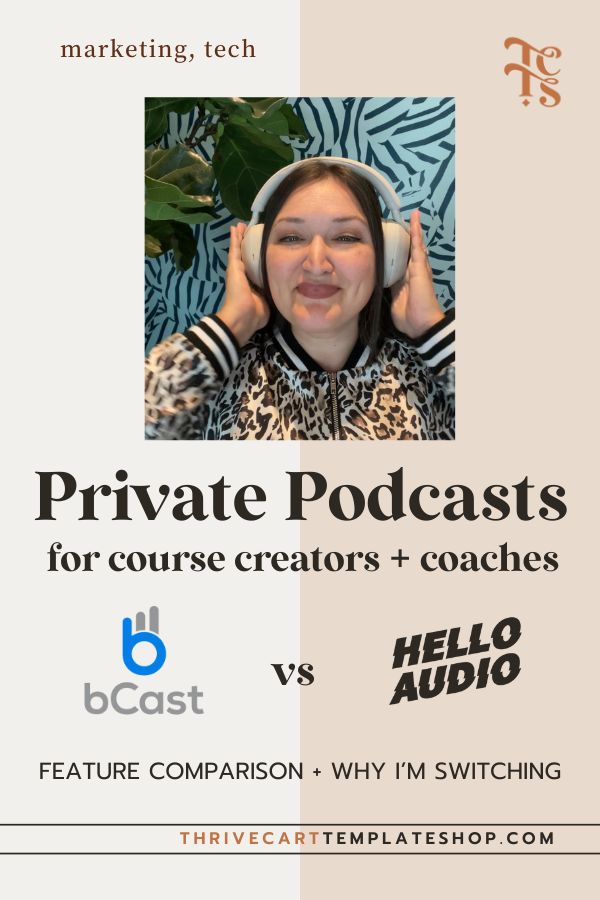 Today, we're diving into the exciting world of private podcasts and comparing two popular platforms: bCast.fm and Hello Audio. Private podcasts have emerged as a powerful tool for engaging with your audience, and as a course creator, you can leverage this technology to enhance your offerings and connect with your students in new and innovative ways.
In this blog post, we'll explore what private podcasts are, how course creators can use them, compare the features of bCast.fm and Hello Audio, and help you decide which platform is the best fit for your needs. Heads up: read on for details on how to get a lifetime deal on a private podcast software 👀
So, let's get started!
What are Private Podcasts?
Private podcasts are exclusive audio content that is accessible only to a select group of individuals (or your course students) via your choice of podcast player, like Apple Podcasts, Spotify, Overcast, Google Podcasts, etc.
Unlike public podcasts, which are available for anyone to listen to, private podcasts require a unique access code or login credentials to be accessed.
This makes them perfect for sharing sensitive or premium content with a specific audience, such as your course participants.
How Can Course Creators Use Private Podcasts?
1) A Free Lead Magnet
Private podcasts can be a fantastic lead magnet for attracting potential students to your course. By offering a valuable episode or series of episodes as a freebie, you can entice your audience to join your email list or funnel.
This not only helps you grow your audience but also allows you to showcase your expertise and build trust with your potential customers. I also think this is a particularly effective type of freebie / lead magnet to share via Instagram Stories, Reels or TikToks.
2) A Paid Private Podcast Offer
You could also skip the free lead magnet and offer a really valuable private podcast as a paid offer. This can be a great option if video trainings aren't your thing. In fact, we have a Private Podcast sales page in our template shop – check it out here!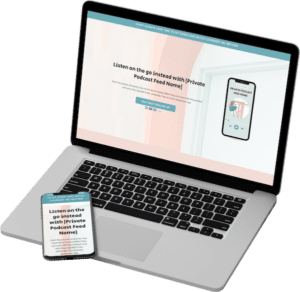 3) An Audio Version of Their Course
Another way course creators can utilize private podcasts is by offering an audio-only version of their course. Some learners prefer to consume content through audio, and providing this option allows you to cater to their preferences.
By including a private podcast as part of the course, you enhance the learning experience, provide flexibility for your students, and most importantly, boost implementation as some students, especially those who are tired of watching videos, can now consume the course content, learn, get inspired, and take action, all without having to sit at their desk. I personally prefer to consume courses this way when I'm on the train into New York City, while driving, doing dishes, or folding laundry. When I'm back at my desk, I prefer that be time spent working IN my business, not learning and getting inspired.
3 Big Reasons Why You Should Add a Private Podcast for Your Courses
1) It's More Accessible
Accessibility is a priority for me and I am always looking for ways to make my course content more accessible, beyond just adding subtitles and providing a text transcript of the video content. A private audio feed of your course allows you to make the content more easily available to your students, especially those who are not visual learners and prefer audio learning. Some students simply prefer to listen via audio only on the go.
2) It Adds Value
Including a private podcast for your course adds another layer of value to potential students as a bonus or a nice-to-have addition. Having a private podcast of your course content or not might even be a dealbreaker for some learners, especially for higher ticket offers.
3) It's Easy and Simple To Do
Using the right private podcast hosting platform can make this entire process super easy to set up. Thankfully, tech has our back with making this super simple!
The Best Private Podcast Platforms
When selecting a private podcast hosting platform, certain features become crucial for course creators. These include ease of use, customization options, analytics, integrations, and user management capabilities.
Let's see how the top 2, bcast.fm and Hello Audio, stack up in these areas:
Ease of Use: Bcast.fm offers a user-friendly interface, making it easy for course creators to upload and manage their private podcast episodes without any technical expertise. Heads up: you are only able to import content as mp3 (wav/mp4 files must be converted first) as of Oct. 2023, but this is easily done if you have a Mac or with free conversion sites. bCast also includes transcription and AI support, as well as dynamic CTAs and 2 cool features I plan on exploring called Audio Messages and Audio Inserts.
Customization: With Bcast.fm, you can customize your podcast player to match your brand's aesthetic, ensuring a seamless and cohesive experience for your audience.
Analytics: Bcast.fm provides detailed analytics, allowing you to track your podcast's performance, measure engagement, and understand your audience better. And in the case of private podcasts, you can track access and downloads on a user-by-user basis.
Integrations: Bcast.fm integrates with Zapier, Headliner App to create audiogram clips for social media, and YouTube. It currently does not integrate natively with Thrivecart or email service providers.
User Management: Bcast.fm allows you to manage your podcast subscribers but doesn't allow you to automate revoking access. Adding private podcast listeners can be done individually, in bulk (CSV upload), or via the Zapier integration. At present, there isn't a landing page optin feature where listeners can complete a form to gain access to the podcast without using Zapier.
Ease of Use: Hello Audio boasts a user-friendly platform that simplifies the process of creating and sharing private podcasts, even for those new to podcasting.
Customization: Hello Audio offers customization options, allowing you to brand your podcast player and create a consistent experience for your students. You can easily utilize their drip feed feature, too, if your course access is dripped to students.
Analytics: Hello Audio provides detailed analytics, giving you insights into episode downloads and listener engagement.
Integrations: Hello Audio integrates with popular email marketing tools, making it easy to automate the delivery of your private podcast episodes to your subscribers. I personally love that it integrates with Thrivecart so you can easily automate adding new course students, as well as creating a landing page for a free or paid sign-up.
User Management: Hello Audio allows you to manage your subscribers effectively, granting access and controlling their membership permissions. With their integrations, this entire process is made a lot easier.
Which Private Podcast Platform Should You Choose?
Both bCast.fm and Hello Audio offer excellent features for course creators and coaches looking to utilize private podcasts.
Hello Audio is definitely the more powerful option but it's also the more expensive option. Hello Audio pricing is $97 per month for unlimited private feeds. bCast.fm is $75 per month for unlimited private podcasts, but keep reading for details on a lifetime deal. I absolutely love a one-time lifetime deal cost, which makes it a much more budget-friendly option.
Assess your specific needs and goals to make an informed decision that aligns with your course creation journey. If you are not to fussed with automatically enrolling or unenrolling listeners, bCast is a more affordable solution.
Want to get a lifetime deal on bCast.fm?
Several times a year, I share a limited-time deal for purchasing a lifetime unlimited account for bCast.fm.
With that deal, you'll not only will you get access to a lovely mini-course called Tiny Podcast by the brilliant Kenz Soliman, you'll also get a complimentary lifetime unlimited license of bCast, similar to their Legendary account tier.
The offer is currently unavailable, but will be back in December 2023 with a special discount for Thrivecart Template Shop readers. If you want to be sure to stay in touch and not miss out on that deal, make sure to sign up for my email list!
See my detailed comparison between bCast, Hello Audio, Hiro.fm, Soundwise, and Captivate.fm here
---
An affordable monthly subscription for private podcasts: JustCast
One other software that a reader shared with my is JustCast, a private podcast software that starts at just $9 USD per month for $90/year for up to 2 private podcasts with unlimited listeners. It offers a Zapier integration, limited-time access (such as for a live challenge or summit), and video to audio conversion. It doesn't have AI or transcription features, but still might be a nice option for you to check out. If you want more than 6 private podcasts though, I'd still recommend bCast, especially when you can nab a lifetime deal.
Final Thoughts
Private podcasts hold immense potential for course creators, allowing you to engage with your audience on a deeper level and enhance the learning experience.
Whether you choose bCast.fm or Hello Audio, both platforms offer valuable features to help you create and deliver exceptional private podcast content. Take the time to explore their functionalities, consider your requirements, and select the platform that best aligns with your course creation goals. 
Start harnessing the power of private podcasts today and watch your course soar to new heights!
Other posts you may want to check out: