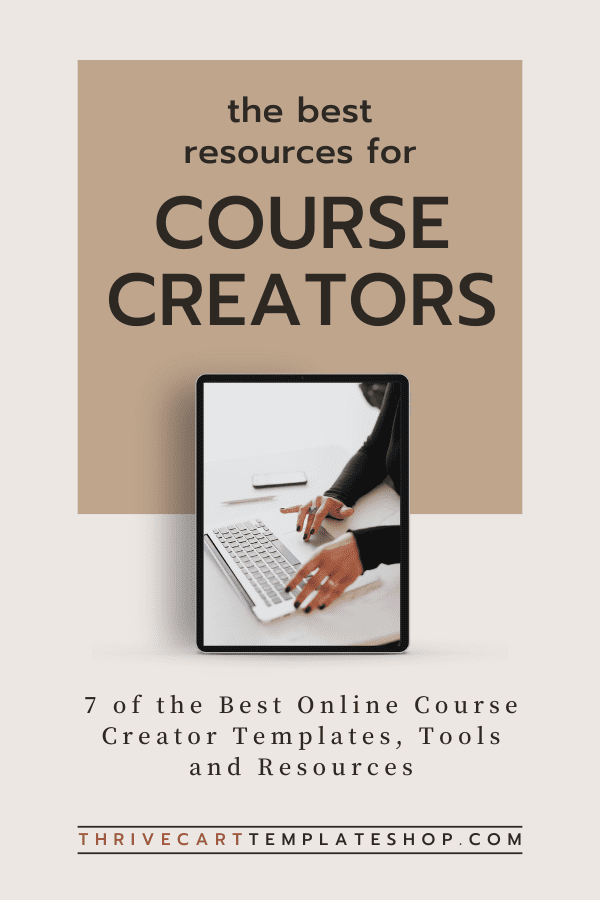 There are so many tools for course creators out there. With so many options, figuring out which tools and course creator templates are worth using can take a lot of work. In this post, I'm sharing all of the tools I use for my online courses and my favorite extra resources to make course creation and selling a breeze!
The Best Tools for Course Creators
1) ThriveCart
You had to have expected ThriveCart to be number one on my list! I can't rave about ThriveCart enough and what a robust tool it is for course creators. With the addition of ThriveCart Learn, you now have everything you need to:
Process course enrollments and payments
Create all of your checkout pages
Set up complete sales funnels
Create and manage an affiliate program
Host all of your course access for students
Check out these posts to see how ThriveCart compares to other sales funnel and course platforms:
2) Convertbox
If you want to grow your email list and get more course sales, I bet Convertbox will be a game-changer for you like it has been for me!
With ConvertBox, users can create custom, dynamic pop-ups, slide-ins, and other types of on-site messages that can be triggered by specific user behaviors, such as scrolling, clicking, or exiting a page. You can also choose to only show the pop-up or slide-in to specific folks based on whether or not they have any tag you designate in your email service provider. The tool also includes a visual editor that allows you to easily customize the appearance and content of their campaigns.
ConvertBox integrates with a variety of email marketing platforms, including Drip, ConvertKit, ActiveCampaign, MailerLite and others, making it easy for website owners to grow their email lists and automate their email marketing campaigns.
Want to hear even more ideas about how to use Convertbox strategically? Check out Leanne from Passive Income Superstar's course Next Level Pop Ups.
Curious how I'm using Convertbox in my business? Tap here to grab this mini course jam-packed with tutorials and creative ideas to use Convertbox in your business to make more sales, boost customer satisfaction, capture more relevant data to help you market better, and more. And if you don't have Convertbox yet, tap here to purchase it with my affiliate link and get ConvertBox Jumpstart for FREE – instant access.
3) Drip
I recently ditched ActiveCampaign and switched to Drip, and I'm loving it.
Drip is a fantastic marketing automation tool that can help businesses like yours build and maintain relationships with your customers through targeted email campaigns. This cloud-based software offers many features that can help you grow your email list and engage with your audience in more personalized ways.
With Drip, you can create customized opt-in forms, landing pages, and email templates that really speak to your subscribers. Plus, the platform's segmentation capabilities mean you can send more targeted messages based on location, behavior, and interests.
But perhaps the coolest thing about Drip is its automation capabilities. You can set up complex workflows that trigger specific actions based on how your subscribers interact with your emails. This means you can send timely, relevant messages that resonate with your audience.
I'm also very excited to dive into Drip Onsite, their robust embedded forms and popups tool that's included with your subscription. It allows you to create Spin-to-Win campaigns and Mystery Offer campaigns, which is perfect for helping new customers or frequent-browsers take the plunge and make their first purchase from your shop.
Of course, no marketing tool is complete without analytics and reporting features. With Drip, you'll have access to detailed data on how your email campaigns are performing, including open rates, click-through rates, and even revenue generated.
Overall, Drip is an amazing tool for businesses looking to take their email marketing to the next level. If you're thinking of making the switch, I highly recommend giving it a try! Did I mention they'll do your migration from your old email service provider to Drip for FREE?
4) Otter
Otter is an artificial intelligence-powered transcription and note-taking tool that can be used for a variety of purposes, including recording and transcribing meetings, interviews, webinars, and presentations.
For course creators, Otter can be a handy tool for creating high-quality content quickly and efficiently. Here are a few ways that using Otter can be helpful for course creators:
Record lectures or presentations:
With Otter, course creators can record lectures or presentations, and the platform will automatically transcribe the content into text. This makes it easy to review and edit the content later on and can also be helpful for students who want to review the material after the fact.
Generate captions and subtitles:
Otter can also be used to generate captions and subtitles for video content. This can be incredibly helpful for students who are deaf or hard of hearing or for those who prefer to watch videos with captions or subtitles.
Improve note-taking efficiency:
By using Otter to record and transcribe lectures or presentations, course creators can free up more time to focus on other tasks, such as developing course materials or interacting with students. Additionally, the ability to quickly search and reference notes can be incredibly helpful when trying to recall specific details or concepts.
5) ScreenPal (formerly Screencastomatic)
ScreenPal is an excellent alternative to Loom for course creators. It's a perfect tool for recording, editing, and hosting all of your course videos. While their free plan is good, I happily pay for the Premier (still much cheaper than Loom, and even more powerful), to record, edit and host all my course content and trainings.
6) Deadline Funnel
Are you a course creator looking for a way to increase your sales and conversions? If so, you might want to check out Deadline Funnel.
Deadline Funnel is a marketing automation tool that creates a sense of urgency and scarcity in your marketing campaigns by incorporating personalized countdown timers. By using Deadline Funnel, you can create limited-time offers that give potential students a sense of urgency to enroll in your course.
One of the biggest benefits of using Deadline Funnel is that it allows you to automate your marketing campaigns. This means you can set up your campaigns once and let them run on autopilot, saving you time and effort.
But perhaps the best thing about Deadline Funnel is that it can help to improve your sales funnel and increase conversions at every step of the process. Creating urgency and scarcity in your marketing campaigns can motivate potential students to take action and enroll in your course.
One other countdown timer solution that I'm currently testing is CountdownHero. This software has the benefit of being quite affordable and currently is available as a one-time purchase, no monthly subscription. Stay tuned for a Deadline Funnel vs CountdownHero comparison blog post coming soon!
7) Airtable + Softr
I had to combine these two because Airtable and Softr are both great tools that work together to build beautiful websites, portals, and more. One idea is to create a landing page hub for your students of call replays, all made by Softr using your data from an Airtable database like magic.
The possibilities are endless for these two tools together!
The Best Course Creator Templates and Resources
Now that we've covered the best online course creator tools let's dig into the best templates and resources.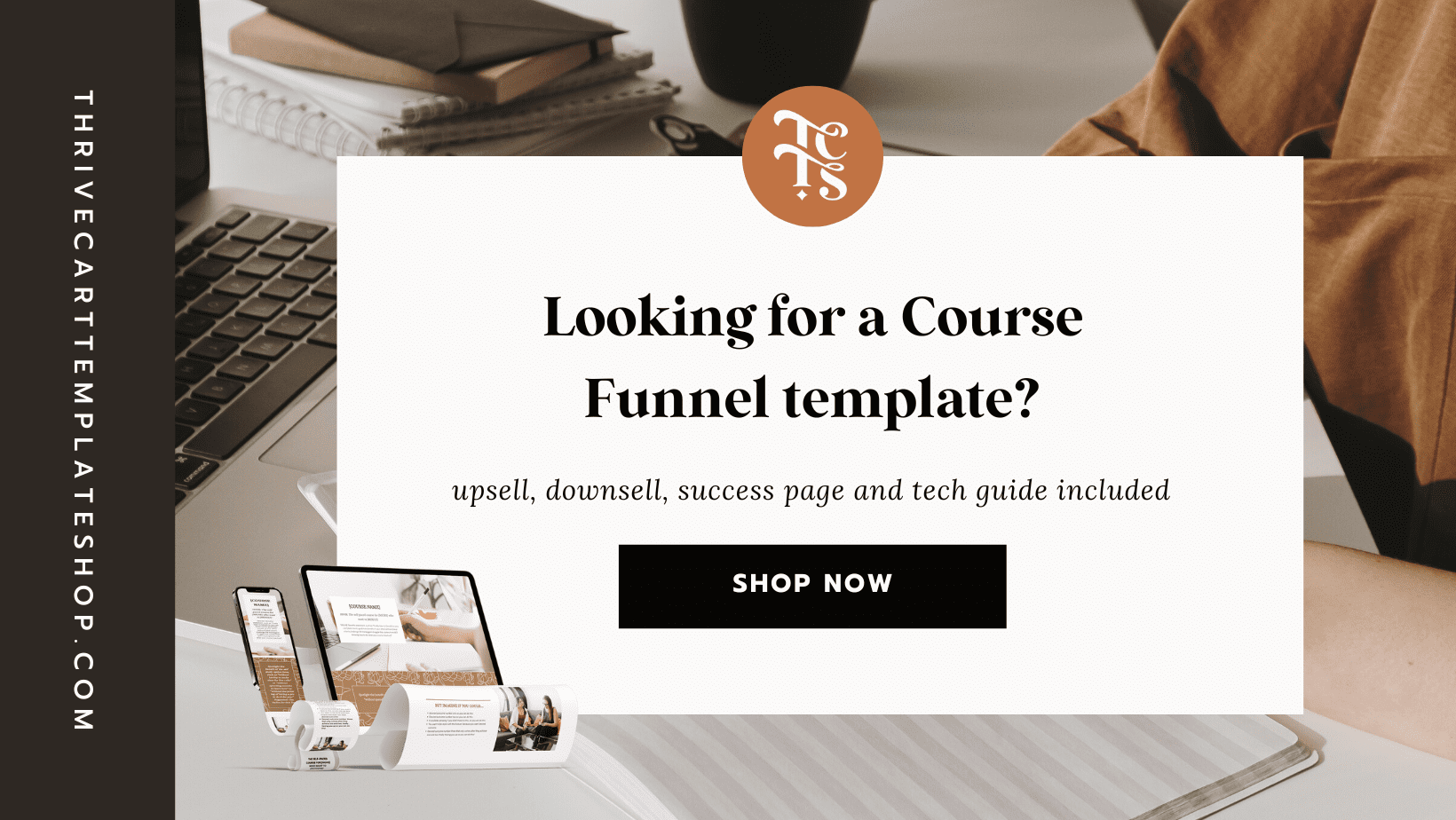 And, of course, our best-selling course ThriveCart sales funnel template! This ThriveCart template is a plug-and-play sales page & sales funnel template to get your course selling faster.
Conclusion
In online course creation, choosing the right tools and resources to make the process easy and efficient can be overwhelming. Luckily, we've put together a list of some of the best tools for course creators. From the robust ThriveCart to the dynamic ConvertBox, and the AI-powered Otter, these tools will help you create high-quality course content, grow your email list, and increase sales.
Whether you're a seasoned course creator or just starting out, these tools will help you take your course creation game to the next level.
Do you have any favorite tools for course creators that I missed? Let me know!
Other posts you may want to check out: