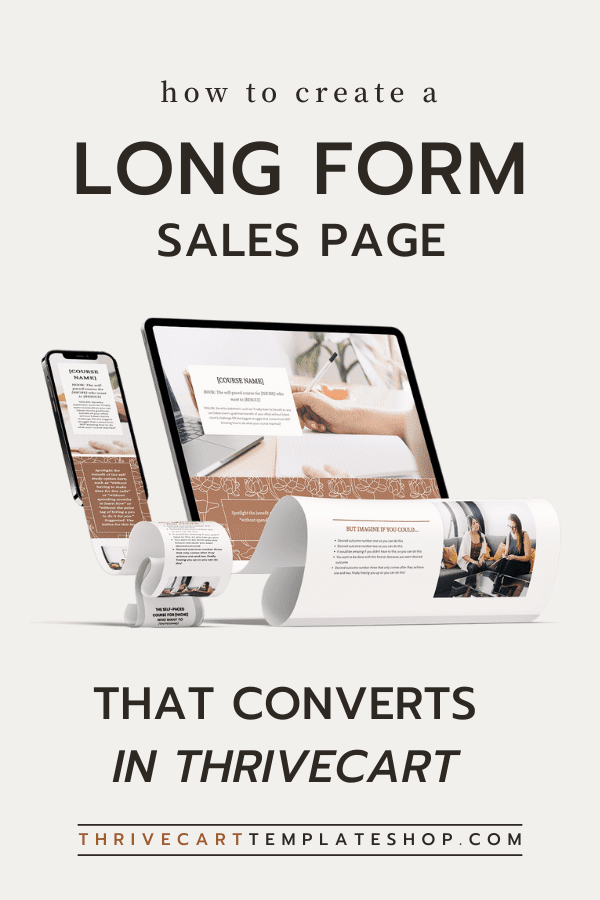 When you first get started with ThriveCart, it might be hard to picture designing your own long form sales page on ThriveCart. It's just for quick checkout pages, right? Wrong! That's exactly why I first launched the ThriveCart Template Shop – to show you what's possible with ThriveCart. In this blog post, we'll cover how to create a long form sales page that converts in ThriveCart and some sales page design tips.
Short Form vs. Long Form Sales Page
One big question you might have about sales pages is, 'what's the difference between a short form vs. a long form sales page?' or even 'what type of sales page do I need for my offer?'
A short-form sales page is like the Cliff Notes version of a sales page – short and sweet. It's a condensed version that gets straight to the point and provides the essential information about a product or service without any fluff, or really, room for very much sales copy. These pages are great for products that are simple and require less explanation, or when you'll be sending piping hot leads to a page, such as after a sales call or high-converting webinar.
On the other hand, a long-form sales page is like the director's cut of a sales page. It's a more comprehensive overview of a product or service, with lots of detailed information and multiple sections, plus plenty of room for persuasion and conversion copy. These pages are perfect for more complex products requiring a more in-depth explanation.
Long-form sales pages often use storytelling, testimonials, and other persuasive techniques to help potential buyers to make a purchase. They're like a sales pitch in written form, designed to get you excited about a product or service and answer as many of your questions as possible.
Ultimately, the choice between the two depends on the product or service being sold and the intended audience. A short-form sales page might be the way to go if you're selling something simple and straightforward, or you'll only be sending folks that link after they've already decided to buy. But if you're selling something more complex or expensive, a long-form sales page can help convince potential buyers that it's worth the investment.
ThriveCart Sales Page Design Tips
Now that you know whether you need a long form sales page or not for your offer, how can you design one in ThriveCart? ThriveCart is so much more than just a quick checkout page tool.
Here are some of the biggest sales page design tips when using ThriveCart:
Start With a Template
Templates save you time, and who wants to start every new sales page from scratch? Not me! That's why I created all of the ThriveCart templates in the shop. You'll find a wide collection of conversion-friendly ThriveCart sales page templates for quickly creating your long form template. And in case you're wondering, yes, I do use my own templates as a jumping off point when I create new products.
With any template, you'll want to customize the design and make it your own. Maybe even duplicate some sections if you want to add even more sections to your sales page, and of course, delete any sections that don't serve you or fit your offer.
Shop all of the templates inside the ThriveCart Template Shop!
Utilize White Space
White space is especially important for long form sales page design because there is so much information. Allowing plenty of white space in your design allows your visitors to scan the page quickly and not get overwhelmed with the amount of copy and sections.
Double Check the Design on Mobile
Something many people miss when using ThriveCart for their sales pages is double-checking the mobile view. Just click on the little smartphone icon in the top right corner to see how the entire page looks on mobile devices.
Use Great Visuals
Along with using white space, you want to use more visuals when building a long form sales page. Visuals allow you to break up long bits of text and make the page much more user-friendly.
Some of my favorite powerhouse visuals to use on a sales page are:
Stock photos (I love ColorJoy and StyledStock for my pages)
Digital product mockups to help customers visualize exactly what they're purchasing. These break into two categories:

Simple digital product mockups you can create in Canva – I include more than a dozen editable templates for free with every template purchase from my shop
Lifestyle mockups where you simply place a screenshot of your product, course or training into an editable photo, almost always requiring Photoshop. Moyo Studios makes gorgeous lifestyle mockups
I like to use a mix of both digital product mockups and lifestyle mockups on my website and pages.
Final Thoughts
Now that you know the difference between short-form and long-form sales pages and which one might be right for your product or service, it's time to start designing your long-form sales page on ThriveCart! But don't worry, even if you're new to ThriveCart, designing a long-form sales page is easier than you might think.
To get started, we recommend using a template from our ThriveCart Template Shop. Templates are a great starting point and will save you a ton of time. Plus, you'll find a wide selection of conversion-friendly templates specifically designed for long-form sales pages.
As you customize your template, remember to utilize white space and include plenty of visuals to break up long blocks of text. And don't forget to double-check your design on mobile devices to ensure a seamless user experience across all devices.
With these tips in mind, you'll be well on your way to designing a long-form sales page that converts like a rockstar on ThriveCart.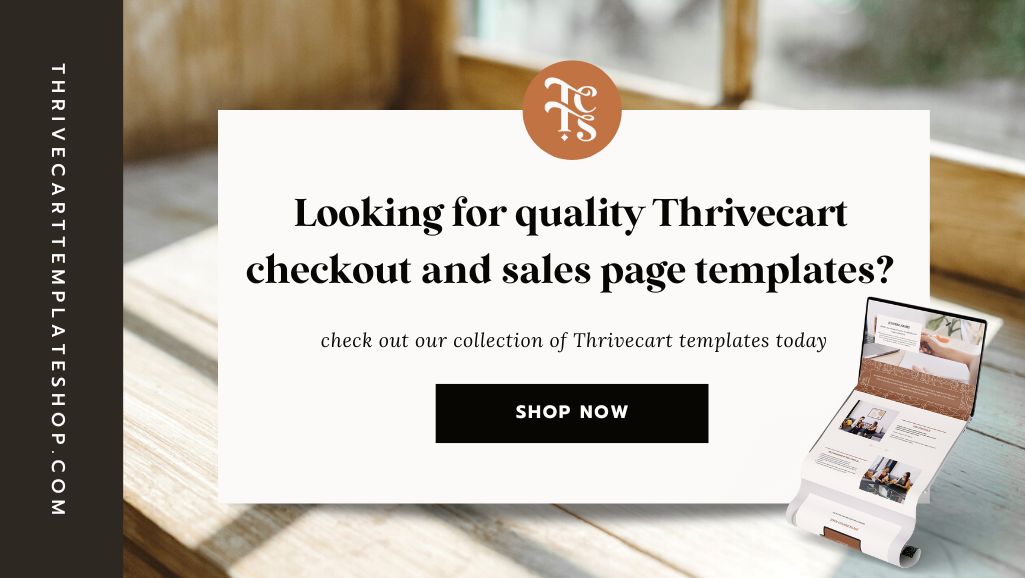 Other posts you may want to check out: