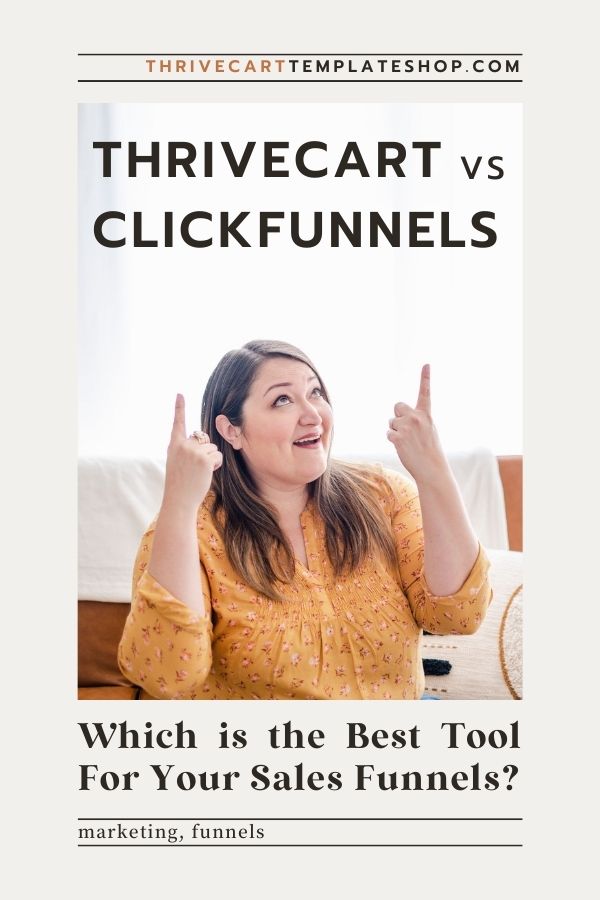 When choosing the right tools for your business, it can be hard to decide with all the options available. If you're looking for a ClickFunnels replacement, you're in the right place. In this blog post, we will compare ThriveCart and ClickFunnels to see which is the best tool for your sales funnels.
Both of these tools are great for creating sales funnels, but they have different strengths and weaknesses. So let's take a closer look at each of them!
Before we dive in, I think it's clear that my sales funnel builder of choice is ThriveCart. But I know many people are familiar with ClickFunnels, and I've been asked what the difference is many times! I wanted to compare these two tools and explain why I love ThriveCart so much.
ThriveCart vs Clickfunnels – Pricing
When it comes to pricing, ThriveCart tends to be a bit more expensive at first than ClickFunnels. ThriveCart has a lifetime pricing structure, whereas ClickFunnels is a monthly or annual fee.
ThriveCart lifetime cost is $495 + an upgrade to Pro for an additional $195.
ClickFunnels has a sliding scale model. Their basic plan is $147 per month, and their highest plan, which is more comparable to ThriveCart, is $297 per month.
The winner? Definitely ThriveCart! While it is more of an up-front investment, you will have paid more for ClickFunnels in only 3 months.
ThriveCart vs ClickFunnels – Free Trials
One spot where ClickFunnels wins over ThriveCart is that they have an option for a 14-day free trial. Because ThriveCart is a lifetime purchase, they don't offer a free trial to get familiar with the system. They do, however, offer a 30-day refund period, so if you get in there and don't love it, you can request a refund.
Want a look at how ThriveCart funnels work? Sign up for my free 15-minute training to see behind the scenes of setting up a funnel with ThriveCart!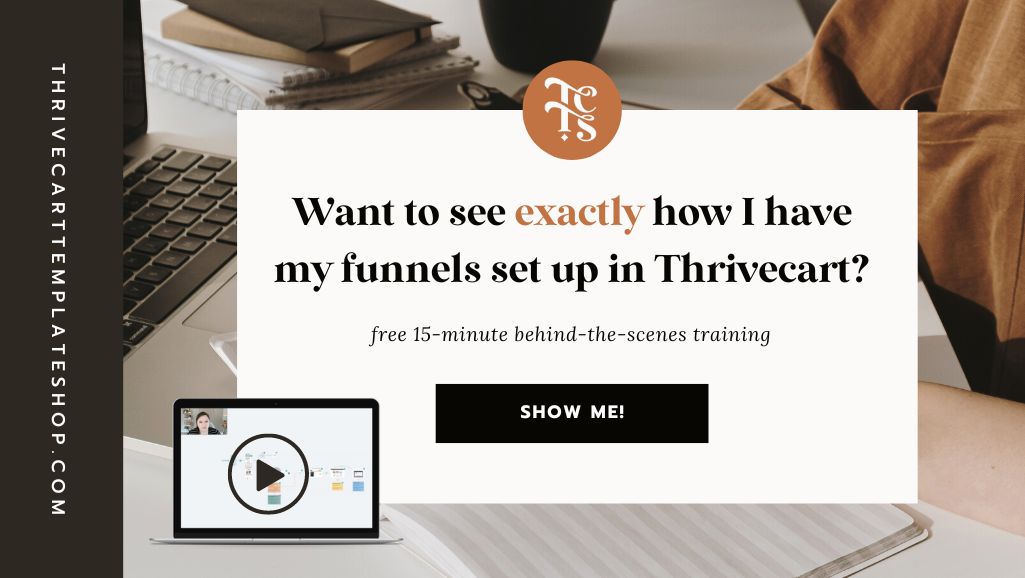 ThriveCart vs ClickFunnels – The Design & Templates
One place where ThriveCart was lacking was beautiful checkout and sales page templates. But I solved that problem for you with the ThriveCart Template Shop!
ClickFunnels does have hundreds of built-in templates. However, most people aren't happy with the selection of templates or how easy they are to customize. With ThriveCart, you can easily use our templates and customize them however you want.
ThriveCart is NOT Just For Building Checkout Pages
Some blog posts and articles state that ThriveCart is "a shopping cart." This is true, but it's so much more than that!
You can use it for more than just checkouts – you can create upsells and downsells, add coupons and discounts, create tripwire offers, offer payment plans, build membership sites, host your courses, set up affiliate programs, and much more!
What's the Big Difference Between ThriveCart and ClickFunnels?
At a glance, ThriveCart and ClickFunnels might seem similar – they're both tools for creating sales funnels and collecting payments. But there are some key differences that make each tool better suited to different use cases.
With ThriveCart, you get more flexibility and power over your checkout pages, plus added features like membership sites and affiliate programs. And while ClickFunnels has beautiful templates and built-in funnel creation features, it doesn't offer quite the same level of customization as ThriveCart.
Is ThriveCart a Good ClickFunnels Replacement?
Yes! Whether you're looking to build one-time checkout pages or complex sales funnels, ThriveCart is an excellent option.
With advanced features like upsells, downsells, payment plans, and more, you'll be able to create powerful sales funnels that get results – without another hefty monthly payment for a tool.
ThriveCart vs ClickFunnels – Final Thoughts
So which one is the best tool for your sales funnels? While ClickFunnels may have some advantages over ThriveCart regarding built-in design and templates, in my opinion, ThriveCart is a better all-around solution. If you're looking for a long-term investment with tons of features, ThriveCart has everything you need to build successful sales funnels.
And we've got you covered with the design part with our easy-to-use and conversion-focused ThriveCart templates!
Overall, ThriveCart and ClickFunnels are both great options for creating sales funnels. Obviously, my recommendation is ThriveCart for any business that wants to create sales funnels that convert without a costly monthly fee.
The Best ThriveCart Sign-Up Bonuses EVER
Ready to get started with ThriveCart? Make sure you sign up through my link and get my amazing bonus! And if you have any questions, don't hesitate to reach out to me. I'm happy to help!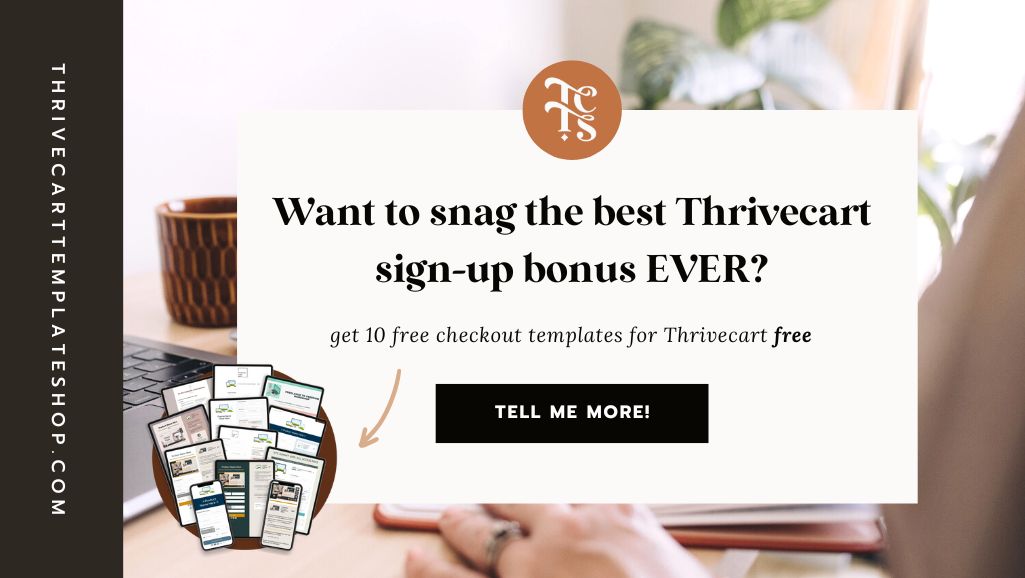 Other posts you may want to check out: