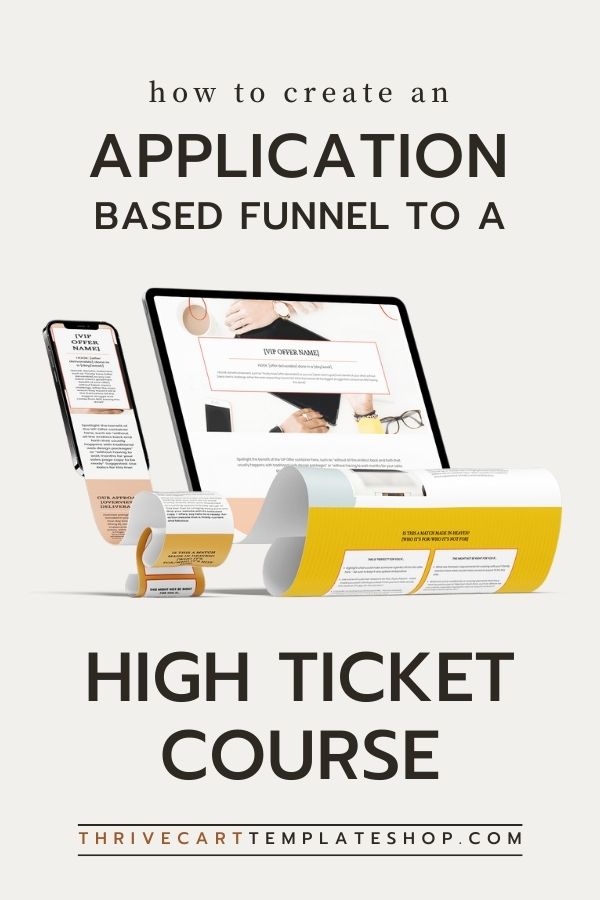 Sales funnels are a marketing tool that helps guide your audience through the steps they need to take to complete a transaction or purchase. Today, we will look at creating an application based funnel for your high ticket course or program. We'll discuss some key points below that will help guide you in designing the perfect funnel for your high ticket course.
At its core, a high ticket course funnel consists of several steps your potential customers must take to complete the purchase. For example, this might include an initial sign-up or form completion to pitch your course, followed by some educational content about your program and what it can offer to potential students.
What is Considered a High Ticket Course?
High ticket sales pricing is subjective. What high ticket means to one person may not be high ticket to another person.
Generally, high ticket sales funnels are for offers of over $3,000 and upwards of $20,000+. These courses and programs are designed for people who want a more personal experience or want to learn from a specific source. If you are selling a high ticket course, consider putting extra time into creating an application based funnel.
To create an application based funnel for your high ticket course, you can use applications like Airtable (my personal favorite) or Typeform. These types of tools allow you to collect all of the application information you need.
How Does an Application Based Funnel Work?
An application based funnel (or form funnel) will help you offer a high ticket course to your audience that includes an application process before someone can join. With the application in your funnel, you can guide people through purchasing your high ticket course.
The key component of this type of funnel is ensuring everything is clear regarding what your audience should do next. It's important that you include clear instructions on what they need to do and where they need to go if they have any questions about their purchase.
What Are the Benefits of an Application Based Funnel?
An application based form funnel's benefits can be seen as a two-fold process.
The first benefit is that it helps you fulfill your promises to the customer. As discussed, if you are selling a high ticket course, your ultimate goal is to get people enrolled in the course who are ready to take action.
The second benefit of using an application based funnel is that it helps increase retention and satisfaction for your customers who follow through with their promises. This benefit lies in how easy or difficult it is for people trying to enroll in a high ticket course.
1. More Control Over the Enrollment Process
A high ticket course or program should have a high ticket experience and enrollment process.
An application form funnel allows you more control over who is invited into the course and more control over the entire onboarding process for new students.
This type of enrollment gives you more control over who enrolls in your course and ensures that your customers are fully aware of what's going on before completing their purchase.
When it comes to your onboarding process, automation is critical! You can easily set up workflows for when an application is accepted or not, so you aren't manually doing tasks like sending emails, following up, or adding access for new students.
2. Generates Exclusivity for High Ticket Sales
One of the most important aspects of creating an application based funnel is ensuring they are exclusive. There's no reason to have an application based funnel if you're going to accept everyone who applies. It needs to be ethical and exclusive. There needs to be a genuine reason behind the application based model.
3. More Sales If Your High Ticket Sales Funnel Engagement is Set Up Properly
That's because the application process encourages those most likely to take action and have a high likelihood of success with your program, product, or service to join your course. Because the application process helps ensure that only those with a genuine interest in your program are enrolled, you may see an increase in revenue and an improvement in return on investment for your business.
What Are the Disadvantages of an Application Based Funnel?
There are a few disadvantages of an application based funnel, but the main one is that it could turn people away. Especially if you don't have visible pricing listed on the sales page prior to someone filling out an application.
While deciding to show pricing or not is a personal choice, it's important to consider the following:
1) If no pricing is listed, it could turn away ideal students because they imagine the price is outside their budget.
2) If pricing is listed, it could turn away people who can't afford the cost of your high ticket course or program. This is good news because you'll have to process fewer applications and onboarding.
Tools to Use For An Application Based Form Funnel:
There are many different tools you could use to help automate your application based form funnel, but here are a few suggestions:
1) Airtable
As you can tell from my program, Bundle Formula, I love Airtable. It can be used as a completely automated onboarding system for your high ticket course or program. In fact, I manage my entire business with it, including my course content, my student experience, feedback, offboarding, engagement – everything. Curious about setting something like this up for your own group program? Check out this epic masterclass on how to do all that with Airtable.
2) Dubsado
You could also use Dubsado forms for the application form and create Dubsado workflows – one for accepted applications and one for not accepted applications.
3) ThriveCart
Of course, when it's time to process payment for your high ticket course or program, my tool of choice is ThriveCart! With my conversion-friendly checkout templates, you can completely customize and brand your checkout page.
4) Typeform
If you'd like a simpler way to create your application form, Typeform is a popular choice for creating fully functional and easy-to-use forms.
5) Zapier
If you're using multiple tools, you'll likely need to use Zapier to connect them and streamline your entire course and program processes.
Final Thoughts
An application based funnel is a powerful tool for businesses that offer high-ticket sales, courses, programs, or services.
It allows you to control and manage the enrollment process more closely, generating exclusivity and higher sales. However, it also has some potential drawbacks, including the risk of turning away ideal customers if you don't disclose pricing on your sales page.
As with any marketing strategy, it's important to carefully consider an application-based funnel's pros and cons before implementing one for your business. By doing so, you can be sure that you are maximizing its benefits while minimizing its disadvantages.
Other posts you may want to check out: