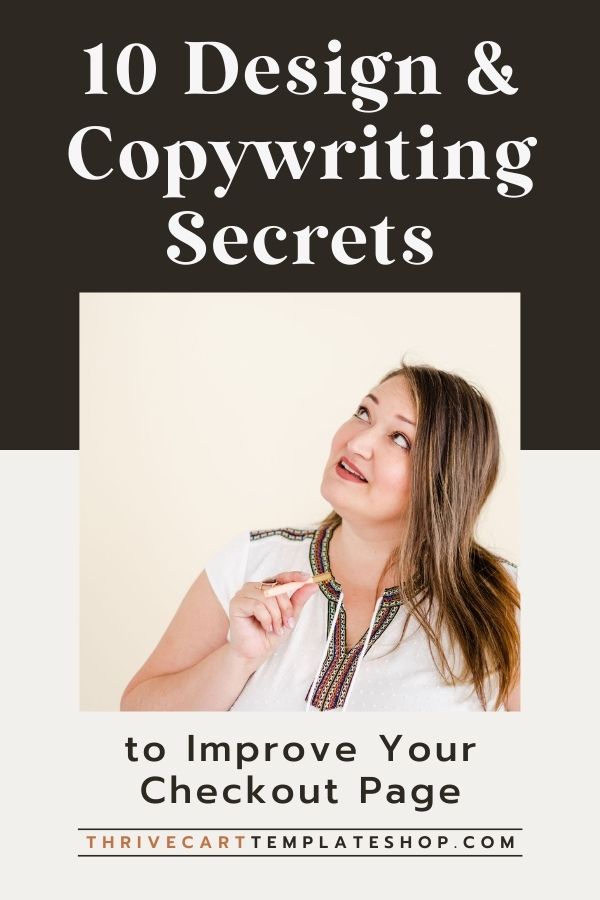 Design and copywriting are two of the most important aspects of any website. In fact, they can make or break a website. This is especially true when it comes to the checkout page. You will lose sales if your checkout page isn't designed and copywritten well. This blog post will discuss 10 design and copywriting secrets that will help improve your checkout page!
Checkout Page Design & Copy: What Is More Important?
When it comes to website design and copywriting, there is no doubt that both are critical for a successful website or checkout page. In fact, they can make or break your site, especially when it comes to the checkout page.
Online shoppers are a fickle bunch. If they don't like your checkout page, they'll leave and never come back. That's why it is so important to design your checkout page well. But what are some of the critical elements that you should focus on?
10 of the Best Design & Copywriting Secrets for Checkout Pages
Let's discuss the best 10 copywriting and design secrets that will help increase your conversion rate and generate more revenue for your business!
1) Design: Clear Layout
Your checkout page should be easy to read, with straightforward typography and an uncluttered layout. This will help keep online shoppers engaged and interested in completing their purchases. With our conversion-focused templates, you can have your ThriveCart checkout page become your sales page. But remember where they are coming from. Did they already receive information on the previous page they would have landed on?
2) Copywriting: Concise & Informative Text
In addition to a clear design, your copy should also be concise and informative. Avoid long blocks of text that are hard to read and blend together. Instead, break up your copy with bullet points and distinct sections to help online shoppers get the information they need quickly and easily.
3) Copywriting: Testimonials & Customer Reviews
Online shoppers are constantly looking for social proof before making a purchase. Adding testimonials or customer reviews on your checkout page can give them extra confidence to purchase. And yes, a screenshot of a positive comment on social media is okay to add too – just be sure to get permission from the poster or blur their name and photo to respect their privacy.
4) Design: CTA Button Colors
Your checkout page should include a clear and prominent call to action button that stands out. This will help increase conversions and encourage online shoppers to complete their purchases on your site. You can use contrasting colors like red, orange, or bright backgrounds with a contrasting CTA button color to create eye-catching designs.
5) Copywriting: Focus On the Benefits
Your copy should focus on highlighting the benefits of your products or services rather than simply listing out all the features. By focusing on what your customers will get out of your offer or product, you will appeal to their actual needs and encourage them to make a purchase.
6) Design & Copywriting: Highlight Risk-Free Guarantees
To further alleviate any concerns that online shoppers may have about making a purchase from your checkout page, consider including risk-free guarantees or money-back offers if you have such a policy in place. This can help give them extra peace of mind and increase sales in the process.
7) Design: Add Visuals or Videos
Visuals and videos are another great way to engage online shoppers on your checkout page and convince them to complete their purchase. Use stock photos, graphic elements, icons, or branded photos. You can also use product demos or customer testimonials to add a more personal touch.
My favorite stock photo subscription sites are Styled Stock Society and ColorJoy because both feature high quality images, women of color, and women of all builds and sizes. Bonus points to Styled Stock Society for their absolutely spectacular collections and Canva templates, and for Color Joy's amazing license that allows template sellers like me to use their images in my designs. We proudly feature and include stock photos from ColorJoy in many of our templates.
8) Copywriting: Clear & Direct Call to Action
Your copy should also clearly and directly tell online shoppers what they need to do in order to complete their purchase. This will help increase your conversion rate by focusing on the action that you want them to take.
9) Design: Always Double Check Mobile
No matter where your checkout page is hosted or created, always check the mobile version. In ThriveCart, it might make more sense to move some sections around for the mobile layout. This can help display your checkout page in the best possible way and encourage online shoppers to complete their purchases.
Heads up: every Thrivecart checkout and sales page in our template shop comes fully mobile optimized, optimized and designed with conversions (sales) as the primary focus, and ready for traffic.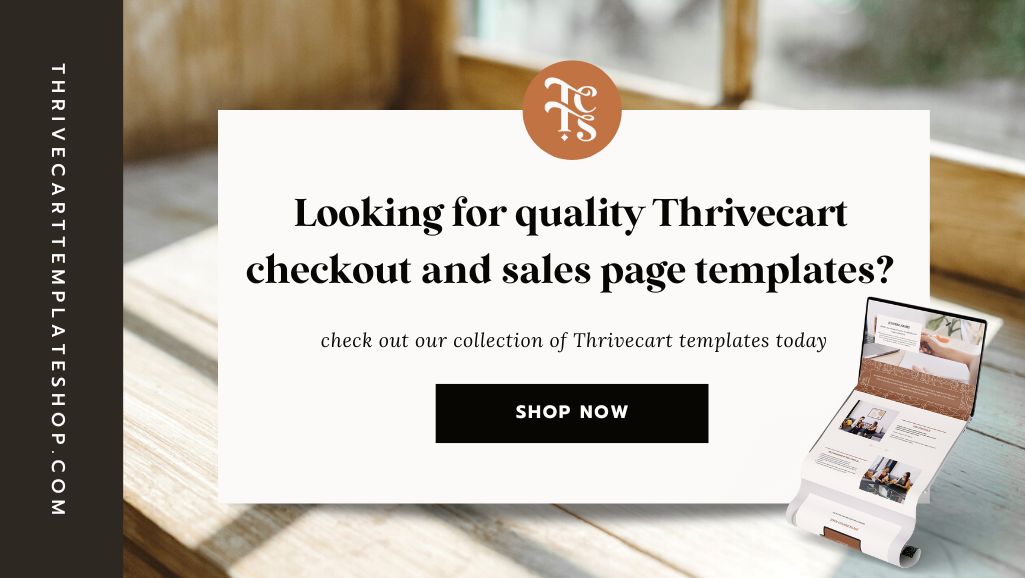 10) Copywriting: Know Your Ideal Audience
I've done some professional conversion copywriting in my years as a funnel builder, but these days I prefer to work with some fantastic copywriters. The most critical and essential step for good copy on a checkout page is to do your research. You need to know your ideal audience so you can speak to them in your copy.
This means knowing their pain points, their goals, and their desired outcomes. By doing this research, you can craft copy that speaks directly to your ideal audience and compels them to complete a purchase on your checkout page. With these tips and tricks in mind, you can create a high-converting checkout page that online shoppers will love.
Want to know the copywriting resources I love and recommend?
Sandra van der Lee from Damn Copy has some amazing copy templates ready for you to make your own. I've used and love her templates in launches before and been very happy with the results!
BONUS THRIVECART CHECKOUT PAGE TIP #11:
If you use ThriveCart, add a link to your main website on your checkout page (probably in the footer is best, especially if you're linking to your privacy policy and/or your terms and conditions). This provides your potential purchasers with an added level of trust AND gives you a backlink to your domain. Backlinks are great for SEO (search engine optimization)!
Final Thoughts
If you're looking for a design-focused solution that will improve your checkout page and increase conversions, turn to ThriveCart today! With our user-friendly checkout page templates and copywriting secrets, we'll help you generate more revenue for your business.
Curious how we're using Thrivecart for our full funnel solution – from sales page, checkout, affiliate program, upsells and course platform? Check out this free 15-minute behind-the-scenes video showing our complete Thrivecart setup.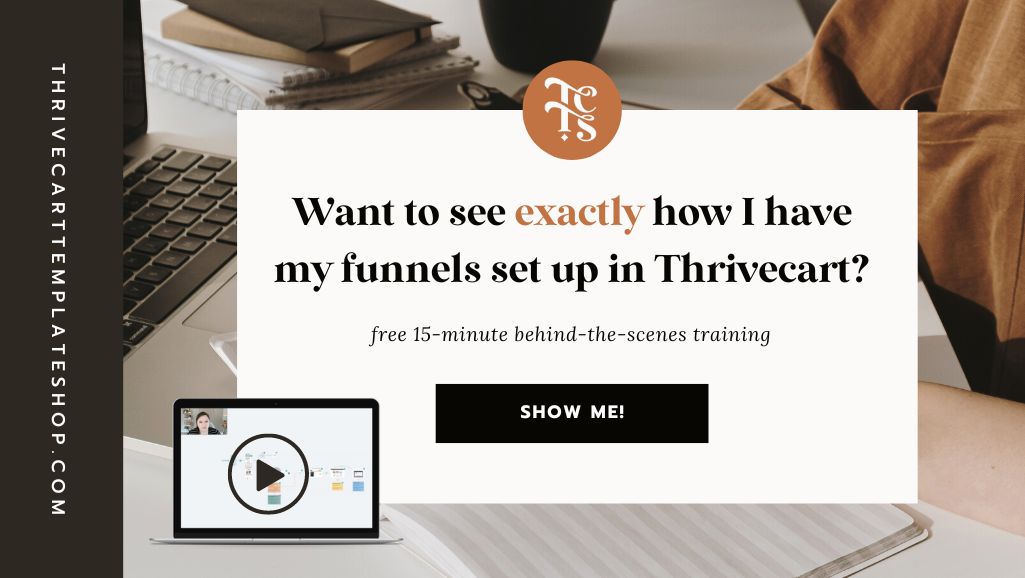 Other posts you may want to check out: