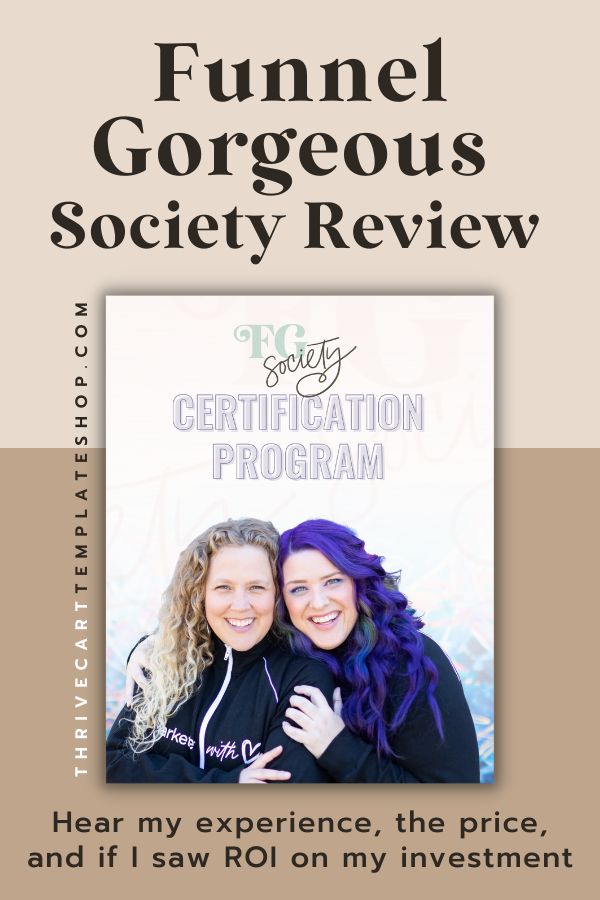 If you landed here on this blog post, you were probably searching for 'Funnel Gorgeous Society Reviews' or 'FG Society Reviews' — and you're in the right place! I've wanted to write this in-depth review of FG Society since I joined over 2 years ago, as it is one program I'm often asked about.
So, if you're considering signing up for Funnel Gorgeous Society and getting certified as a triple-threat marketer, keep reading!
I also have an exclusive 30% off coupon code just for you inside this post! 😲 But first, let's dig into the Funnel Gorgeous review of their funnel certification program.
What Is Funnel Gorgeous Society?
In a nutshell, Funnel Gorgeous Society is an online marketing and funnel certification program that teaches you how to grow your business using digital marketing tactics such as sales funnels. As part of the program, you get access to tons of great resources in the member's area, including tutorials and step-by-step training modules on everything related to sales funnels.
There are many different options for learning digital marketing today. What makes FG Society stand out is its commitment to delivering actual results for marketers at all skill levels.
To be certified as a triple-threat marketer, you need to take all 3 phases of the certification program within 12 months (and pass your exams). Certification is not required, but many people opt to get certified as there are so many extra benefits. Personally, I found the exams challenging yet fair, and I LOVE having something specific that I'm working toward. The certification element of this program really helped me stay motivated to complete the program.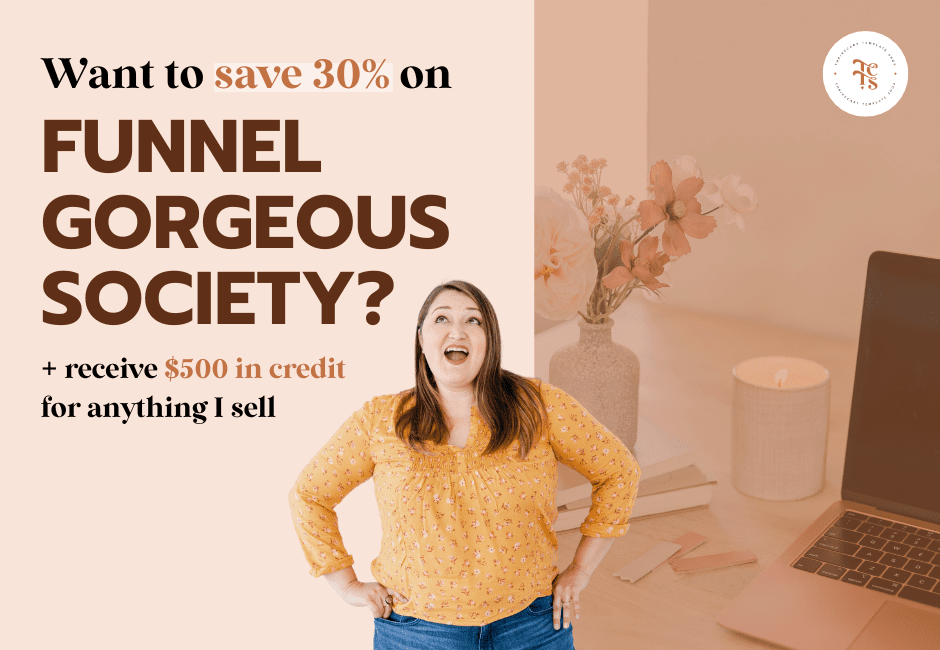 Already know you want to sign up for Funnel Gorgeous Society?
Scroll to the bottom for an exclusive 30% off coupon & special bonus! 👇🏼
The 3 core phases of the FG Society Certification Program are:
– Phase 1 – Offers: Creation and Strategy
The first phase of the FG Society funnel certification program is the foundational strategy piece. Before you can dig into copywriting and design, you need to have an offer that is going to sell. If you love strategy, this will probably be your favorite phase of the Funnel Gorgeous Society program!
– Phase 2 – Sales Funnel Copywriting
After creating an offer that sells and knowing your audience, the next piece is the copy and messaging. Some people really struggle with writing great copy, but this phase breaks it down in an easy-to-follow way. You don't have to be a professional copywriter (yet!), but you will feel a lot more confident in your copywriting skills after phase two.
– Phase 3 – Sales Funnel and Sales Page Design
The final piece of the sales funnel strategy and skills training is the design. This entire phase is to help you put those finishing design touches like a pro. You don't need a funnel design course; phase 3 of the program goes deep into everything.
My Favorite Things About Funnel Gorgeous Society:
1) The Creators: Julie Chennel (formerly Julie Stoian) and Cathy Olson
FG Society was created by Julie Chennel and Cathy Olson of Funnel Gorgeous. They are both fantastic, and their passion for helping marketers succeed really shows! FG Society was the first four-figure investment in my business that I bought with zero hesitation. A big reason why I was so confident to make that decision was that I knew how well Julie and Cathy knew their stuff.
While it is a significant investment (we'll get into that even more later), it was definitely a good decision!
2) The Level of Support
There is a really supportive community of people in FG Society, and everyone is always happy to help out. Whether you have a question about sales funnels or need support with an issue, there's always someone available to lend a hand, in addition to the weekly live Q&A call inside the community and the monthly call for certified marketers — both are directly with Julie and Cathy. The certified call, only available to actively certified members, is a more intimate call on Zoom where you're invited to unmute and chat through your unique concern, question, or struggle directly with Julie and Cathy. Julie Chennel has a $20k+/year mastermind where you can get her advice directly too (it's called Digital Insiders, but I am not a member), but I really love that we have this option available to us. I make showing up to these calls a priority.
3) The Funnel Certification Program Content and Training
I LOVE the program content and training throughout each phase of the certification program. Every video is short, actionable, and very easy to consume.
There isn't so much content that it's overwhelming, but there is enough to cover absolutely everything you need to know.
In the 2 years since I first signed up for Funnel Gorgeous Society, I am still referring back to some of the content and training materials for a refresher. If you're serious about growing your sales funnel knowledge and digital marketing skills, this is the BEST program for you.
4) The ROI
My personal results and ROI for this program -while amazing– aren't super uncommon. This program works! My ROI was 400% within weeks. You read that right: 400%!
I paid $2,300 for the Funnel Gorgeous certification program and made over $12,000 in client work building my first high ticket funnel, after only a couple of weeks of completing the program. The price for Funnel Gorgeous Society is $3,000, but I joined during the first round of it, so I paid a little less. Still, it was a nerve-wracking investment and the absolute MOST I'd spent on a program to date. Thankfully it paid for itself immediately.
In the 2 years since taking this program, I can attribute making multiple 6-figures to this program and the skills that I learned. That's the power of a program like this. The ROI just keeps on giving!
I've been paid to write copy for clients (thanks, phase 2!), strategy sessions to help clients map out their funnels and offers (thanks phase 1!), and earned over $100k as a funnel builder, incorporating skills learned in all three phases. Phase 3 (design) was a challenge for me, but I really enjoyed it, and now I apply those same funnel design skills to my template shop.
Who Is Funnel Gorgeous Society a Good Fit For?
If you're a business owner, entrepreneur, or marketer who wants to learn the latest digital marketing strategies and grow your business online, then Funnel Gorgeous Society is definitely for you. What you learn, you can absolutely apply to your own business, as you craft your offers and funnels.
If you're looking to niche down from social media manager, virtual assistant, or OBM to funnel builder or funnel designer, copywriter, or strategist, this is a GREAT program for you. You can also become certified as a business coach or service provider to up-level your marketing skills (for yourself or for client work!)
However, if you do want to become a sales funnel specialist, strategist, designer, or copywriter, I 100% recommend and strongly encourage you to become a triple-threat marketer. You can go through the entire certification program in as little as a few months and become a booked-out funnel expert!
Do You Need to Use FG Funnels?
One big question a lot of people ask is about FG Funnels. FG Funnels is Julie and Cathy's sales funnel software. However, you don't need to use FG Funnels in order to become Funnel Gorgeous certified. You could, but you can also continue to use whichever software you prefer, such as Clickfunnels, Leadpages, Kajabi, etc or WordPress with Elementor Pro. Personally, I use WordPress for my websites, and Thrivecart to build my entire funnel. Curious? See more here.
Funnel Gorgeous Society Cost
What does Funnel Gorgeous Society cost? It's not a low-cost program, and for a good reason! Because of the level of content, training, support, and ROI, it could cost a lot more (in my opinion).
📌 REMEMBER: scroll to the bottom of this blog post to get an exclusive coupon code to save 30% off your enrollment in the FG Society certification program!
Each of the 3 phases costs $1,000, so your full certification costs around $3,000. There is also a $500 annual renewal fee to keep your certification active. You do not need to re-submit or pass any new exam for renewals. It is strictly a renewal fee to keep your community access and certification active. The $500 certification maintenance fee covers access to the weekly live Q&As, the monthly call with Julie and Cathy, an affiliate commission increase, and other perks, like 3 live workshops a year. It's worth it for me and an easy-yes to maintain my certification. However, if you don't want pay it, you won't lose access to the course, just the live elements mentioned above.
Funnel Gorgeous Society: Is It Worth It?
In my opinion, Funnel Gorgeous Society is absolutely worth it. The program provides you with all of the latest digital marketing strategies and tools that you need to grow your business online.
It offers a supportive community of marketers who are always available to help you succeed, and the ROI is incredible. Funnel Gorgeous Society is the perfect program for you whether you're looking to develop your funnel specialist skills, copywriting chops, or digital marketing strategies. So sign up today and start growing your business!​
I wholeheartedly recommend signing up for Funnel Gorgeous Society! I'll see you and your triple-threat marketer status badge soon!
Save 30% Off Your Enrollment of Funnel Gorgeous Society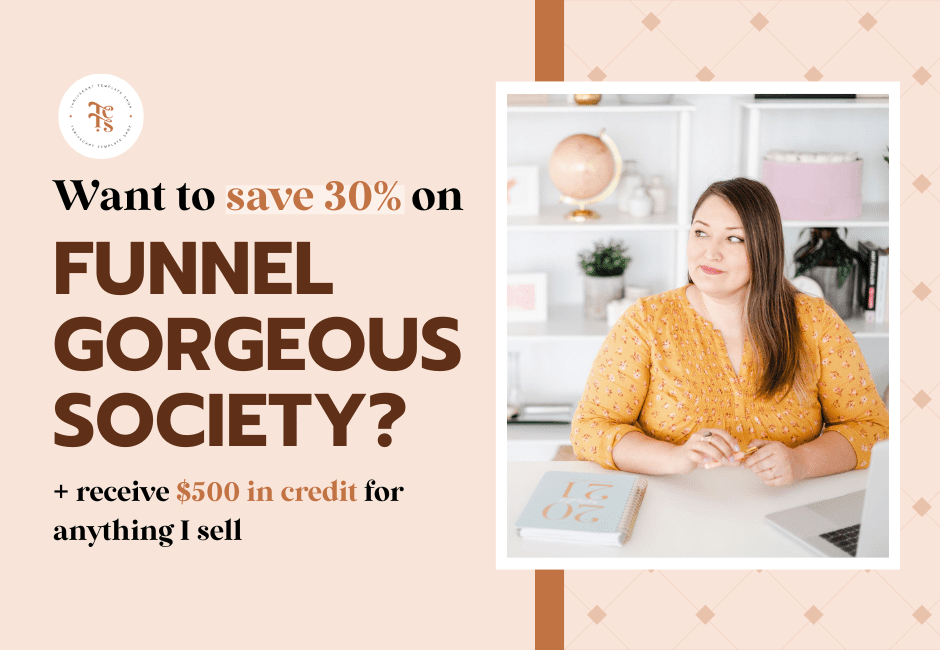 I'm so excited to have entered into a partnership with Funnel Gorgeous, and they have kindly let me offer YOU, my fabulous audience, an exclusive 30% off coupon code. This kind of discount isn't really offered anywhere else! Plus, when you sign up through my affiliate link to save 30%, I'll ALSO be giving you $500 in credit to redeem for anything I sell.
How to Get Your Funnel Gorgeous Discount & Bonus Credit:
Enter coupon code DAMAFGS during checkout to save 30% on your enrollment – this coupon code is valid whether you choose to pay in full or a payment plan option
Once you sign up for Funnel Gorgeous Society, click here to request your bonus of $500 in credit that is good for anything I sell – from full funnel templates to courses, trainings, 1:1 calls, and more!
Other posts you may want to check out: