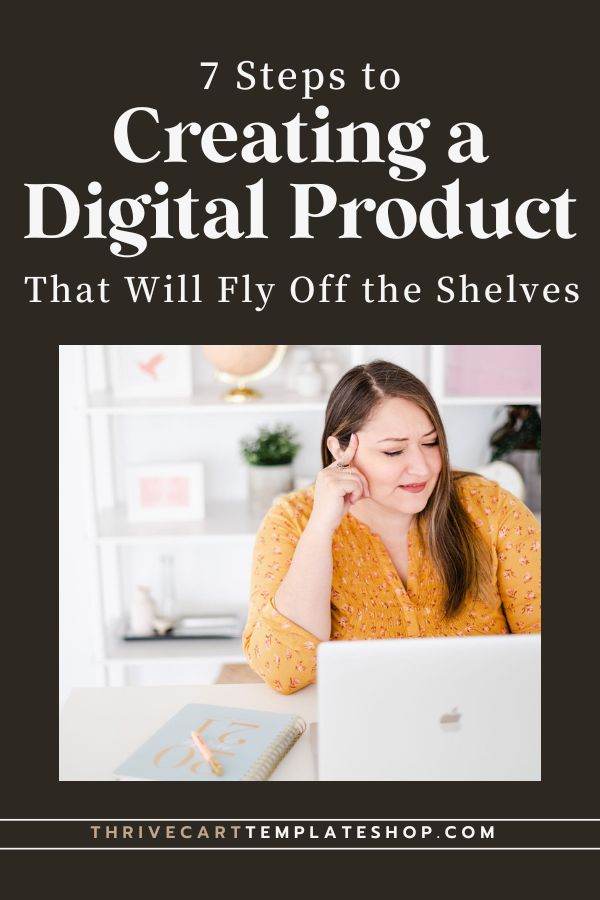 If you're an entrepreneur or course creator, you know that digital products can be a great source of revenue. There are so many different types of digital products you can create. But how do you create a digital product that will fly off the shelves? In this blog post, we'll share 7 steps to creating a digital product that your audience will love.
What is a Digital Product?
A digital product is a type of information product that can be delivered entirely online. It's typically a downloadable or importable file, like a training video, template, ebook, or PDF. There are many different ways to package up a digital product!
The power of digital products is that they can be sold over and over again. They are a fantastic type of offer because they are evergreen (meaning they're always available, not just during certain times of the year), and they're pretty close to passive income – sometimes folks just happen on them, and they're the right product at the right time, and they purchase immediately.
The 7 Steps to Creating a Digital Product That Sells
If you landed here by Googling 'how to create a product to sell' or 'selling digital products', you're in the right place. We always hear how amazing digital products are and why they're so beneficial. But there's not a lot of practical advice about creating digital products.
1) Figure out what problem your product will solve
Creating a successful digital product starts with determining what problem it will solve for customers. You need to identify both the problems your prospects have and potential solutions your product or service can offer them.
From there, you can craft an effective selling strategy that appeals to their needs, so you can generate higher conversion rates and ultimately strengthen customer satisfaction.
Once you figure out what problem your products solve, you are well on your way to building strong selling relationships with clients.
2) Do your research and make sure there's a market for your product
Making digital products is an exciting venture, and sometimes it can be tempting to go right into creating the product. However, it's important not to skip the research process! Doing thorough market research will ensure that your digital product has potential customers. After all, there's no point in making a digital product if no one is interested in buying it.
It may take some extra time upfront, but doing your research will pay off as you launch your digital product into the world.
3) Figure out the deliverables
Working out how to deliver digital products can be a tricky process, but it doesn't have to be! By taking a systematic approach and breaking the task into smaller deliverables, you'll soon find that understanding how it all comes together is much less daunting.
Taking the time to map out each step of how your product should come together makes the whole process much easier and ensures you don't miss any important details.
When deciding the format of your digital product, it's essential to consider 3 things:
What makes sense for the topic?
You won't want to do a digital product on a tech tool with a private podcast feed. It wouldn't make sense because your audience needs to see your screen.
What makes sense for your audience?
Does your audience love listening to podcasts? Are they super busy and prefer shorter 5-10 minute videos over a 2-hour workshop replay? Always consider your audience and what will work best for them.
What makes sense for you?
If you don't want to be on camera, don't! There may be a way to take your digital product idea and turn it into an ebook or a set of done-for-you templates.
Establishing critical milestones along the way also helps ensure you stay on track and ultimately successfully deliver your digital product. Remember, a digital product can be super simple, like a spreadsheet, or it can become something more robust, like a mini-course.
Speaking of deliverables, if you're wondering how I deliver my digital products, including templates, workshops, trainings, courses, and bundles, I use Thrivecart as my full-funnel solution, from sales page to delivery. Want to take a peek at how I use Thrivecart as my complete funnel software? Tap here to watch a free 15-minute behind-the-scenes video.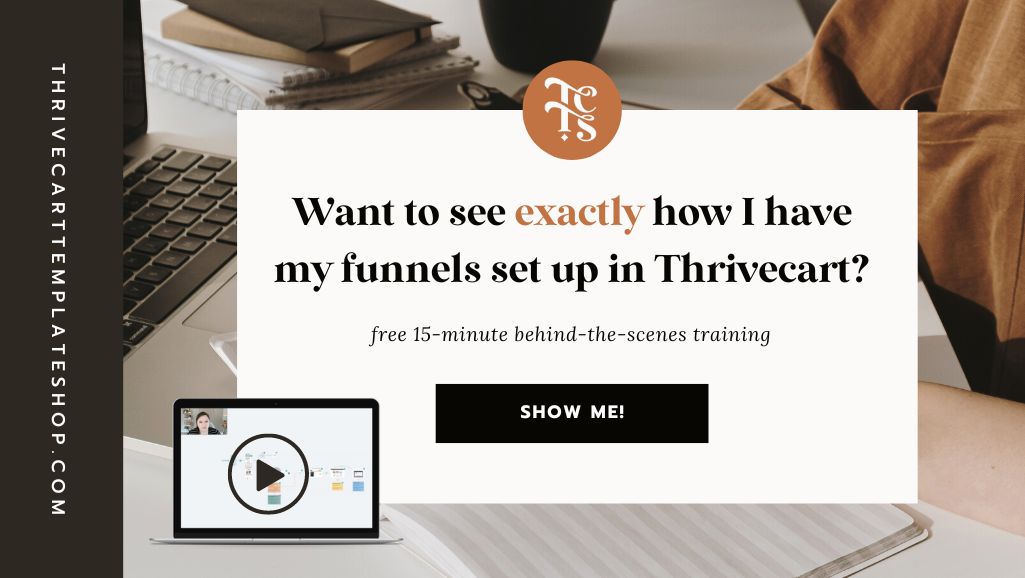 4) Find a way to stand out from the competition
Navigating a competitive marketplace can be difficult, but if you're wise enough to go in prepared, you can stand out. Taking time to do competitor research and learn what they offer will give you insight into your unique value.
Consider creating a digital product that caters to your niche customers and provides them with something no one else is offering. Remember that sometimes your digital product's most unique selling feature is YOU. Your experiences and training style are different from everyone else's. That's where you can differentiate your product from others that look or sound similar.
Going the extra mile will surely make an impression and get you noticed!
5) Build an audience for your product before you launch it
When pre-selling a product, the purpose is to create anticipation and generate interest prior to launch. A presell strategy can involve entering pre-sales data in a CRM system, limiting the number of pre-purchased items, or hosting livestream events and releasing exclusive content.
When designing presell strategies for digital products, putting together incentives like pre-order discounts and partnering with partners or affiliates who will talk about it can help build an audience before you launch your product.
Implementing presell strategies right at the start of your product's development lifecycle gives you the best chance at success. You'll have time and the opportunity to make any necessary changes based on early feedback generated by your presell efforts.
6) Make sure your product is priced correctly
So many of us struggle with pricing! When pricing a digital product, it's important to keep in mind a few key points.
First and foremost is the time and energy you've spent creating your product: pricing it too low may not give it the value it deserves. But, pricing it too high could cause buyers to question whether or not they should make that purchase.
It also helps to have an understanding of customer demographics; if your product sells primarily among a particular demographic, pricing it realistically for that demographic can be very beneficial for sales.
Ultimately, setting the right price for your digital product could make all the difference in finding success with customers. But pricing is something that is going to be different for everyone. It depends on your current audience, your other offers, etc.
You can always increase the price later on!
7) Create an Evergreen Sales Funnel
Now that you have your digital product created and it's sold a few times, it's time to add it to an evergreen sales funnel. Remember to ask for testimonials for your digital product from your customers. This social proof is so valuable for your evergreen sales emails and sales page for the digital product.
The final stage in creating a successful digital product is to build an effective sales funnel that will help you to continually sell and engage with customers over time. By making an evergreen sales funnel, you can take advantage of various automated marketing tactics, such as email marketing, lead nurturing, and social media engagement.
Final Thoughts
If you're thinking about launching a digital product, following these steps will help ensure that your digital product is successful. By taking these steps, you'll set yourself up for success when you launch your digital product. If you want to sell your products using ThriveCart, check out our template shop for beautiful conversion-focused checkout templates.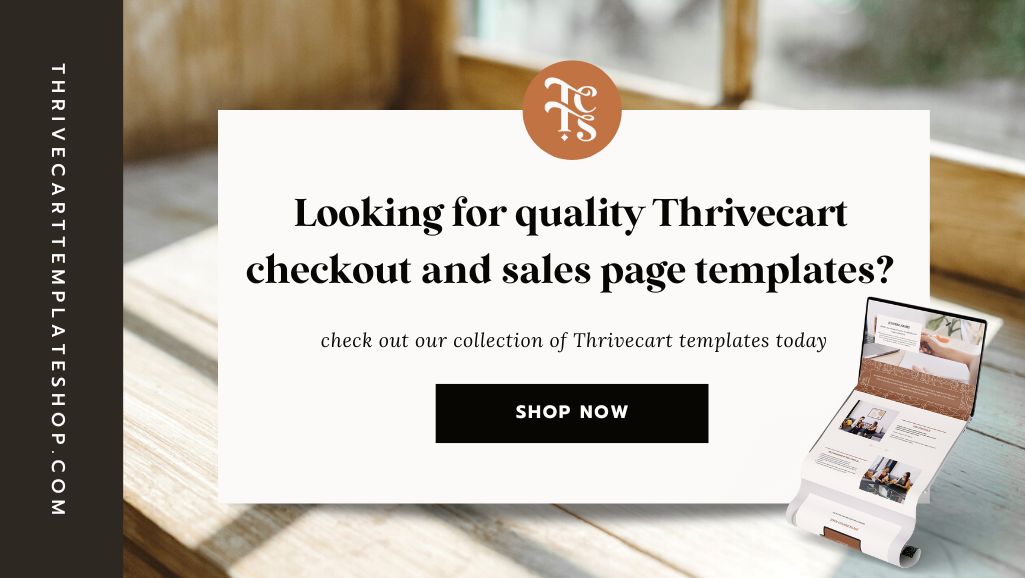 Other posts you may want to check out: