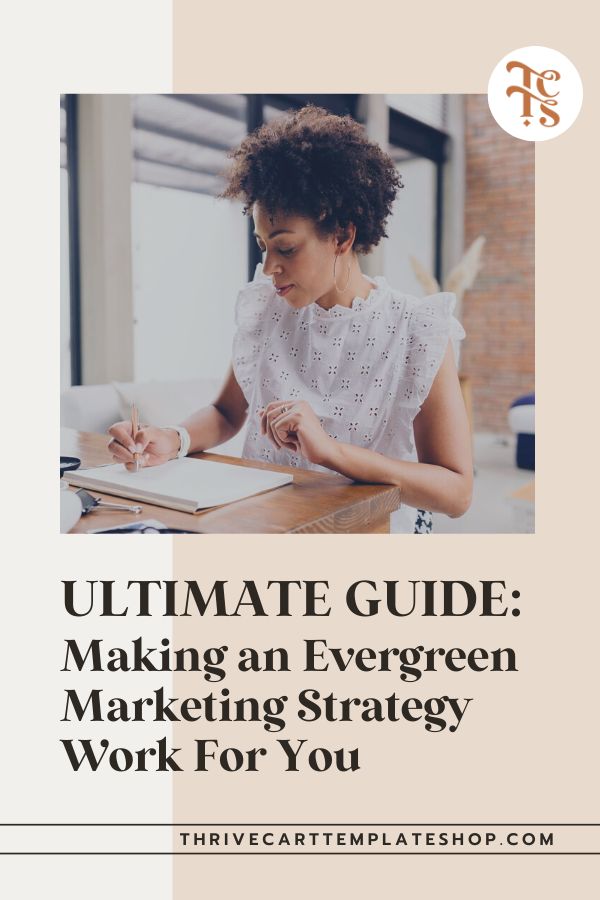 Evergreen marketing can get a bad rap sometimes. Mainly because it's compared to the excitement and results generated with a live launch, but there are so many benefits to adding an evergreen marketing strategy into your business – even if you love live launches!
Everyone always says, "Evergreen vs. Live Launches," but I say… why not BOTH?
What Does Evergreen Mean in Business?
Evergreen marketing is the practice of creating and maintaining a sustainable online presence. This way, your business can stay active on the internet even when you're not actively promoting it.
When properly executed, your website will continue to generate organic sales long after you've launched your product or service.
The Benefits of an Evergreen Marketing Strategy
Let's face it; we can't be live launching all the time.. that's a surefire way to exhaust your audience and make them feel like you're pitching all the time. Not to mention, live launching can often cause you to feel overwhelmed, too.
Adding in some evergreen marketing strategy and evergreen promotions will help you focus on your launches without feeling like you've constantly been selling to your audience.
Revenue and Sales Between Launches
We need to make money, but marketing is more than just launches and sales. The truth is you should be promoting your products or services at some point between each launch. That way, when you launch again, you'll have a new audience that's just waiting to hear what you're up to!
Passive Income and Additional Revenue Streams
Want a more sustainable business that doesn't rely on live launch ups and downs? That's the power of a solid evergreen marketing strategy! Live launches and live programs can bring in big cash months. However, getting passive income between those big months where you don't have to lift a finger is the best way to make your business more sustainable.
And sustainability = long-term growth!
The Key Pieces of an Evergreen Marketing Strategy
Creating a successful evergreen marketing strategy is a little different than live launches. Some factors become even more important because you aren't relying on 1:1 sales calls or excitement.
1) Your Offers and Messaging
While your offer and messaging are always essential to sell, it becomes even more important when it's an evergreen promotion. Your messaging and sales strategy must be on point to get people excited to buy. There are some tools you can use to encourage excitement and create scarcity, like Deadline Funnel. But if your offer and messaging are clear, it's not 100% essential to include scarcity for evergreen business success!
Here are a few questions to think about when crafting your messaging for your evergreen course or digital product:
Who needs this offer?
How will this offer help them?
How are they feeling right now?
How do they want to feel?
2) Your Content and Visibility Plan
A successful evergreen marketing strategy relies on nurturing your audience, so your content needs to position your offer or digital product as the next step. You need to build a relationship with your ideal audience, especially if your offer is at a mid-to-high price point. You must create that know, like, and trust factor, through your evergreen content.
You can use your content to create a compelling case for your offer by highlighting the benefits and showing the end result. Use testimonials, case studies, and other content to build trust with your audience.
3) Your Opt-in Pages and Checkout Pages
Next up is your evergreen sales funnel pages and checkout pages. You need people to take action – whether that is buying your evergreen offer or signing up for your free lead magnet to get into your sales funnel. Make it easy for them to take the next step. You wouldn't believe how overly complicated and confusing some people make their opt-in or checkout pages!
You don't want to do that. You need to make it simple so people can sign up and purchase quickly (and confidently). If you're using ThriveCart, shop my easy-to-customize ThriveCart templates to improve conversions.
Your sales funnel will most likely include a bump offer, upsell, or a downsell. This is an extra bonus of an evergreen business model. These 'add-on' offers allow you to increase your customers' average spending and give them what they need!
What is a Bump Offer?
A bump offer is a bonus product or service you can sell your customers if they choose. This add-on aims to help customers overcome any barriers they may have in moving forward with their purchase by offering up a 'hard to say no to' bump offer.
What is an Upsell?
When you make a sale but have a next-level offer that might be a good investment for them, you can offer it as an additional offer. An upsell is a product or service that provides value to your customers to take them to the next step sooner.
Want to learn more about how to make money with upsells? Check out my course, Unleashing Upsells.
What is a Downsell?
A downsell is the opposite of an upsell. It's a product or service that provides value and is offered to potential customers who don't complete their initial checkout.
For example, if a customer didn't complete checkout for an annual membership, maybe you'll offer them a downsell of a lower-priced monthly option.
4) Your Email Nurture Sequences
The true power of an evergreen marketing strategy happens in the emails. This is your time to shine and build relationships with your customers. Creating email automations and tagging subscriber behavior allows you to dial in on your messaging for each person.
Some questions you'll want to ask yourself while mapping out your evergreen email sequences:
This person bought offer A but didn't buy offer B; how can I craft an email sequence just for them?
This person bought offer A and offer B; what else can I offer them?
How many nurture emails does each type of person need in an email sequence?
What email subject lines will encourage people to open my emails?
5) Measuring Your Success and Data
Knowing your numbers and how your evergreen marketing strategy is performing is essential. As a benchmark, most carts convert around 1-3% depending on your industry, and anything above that is considered very good.
You'll also want to track your email sequence open rates and click-through rates.
Making sure that you monitor your data and make the necessary tweaks will help you continue to improve your evergreen marketing strategy so it can convert on autopilot for you.
Want more help with your evergreen marketing strategy?
I've created a free resource called How to Go (Ever)Green to help get you started.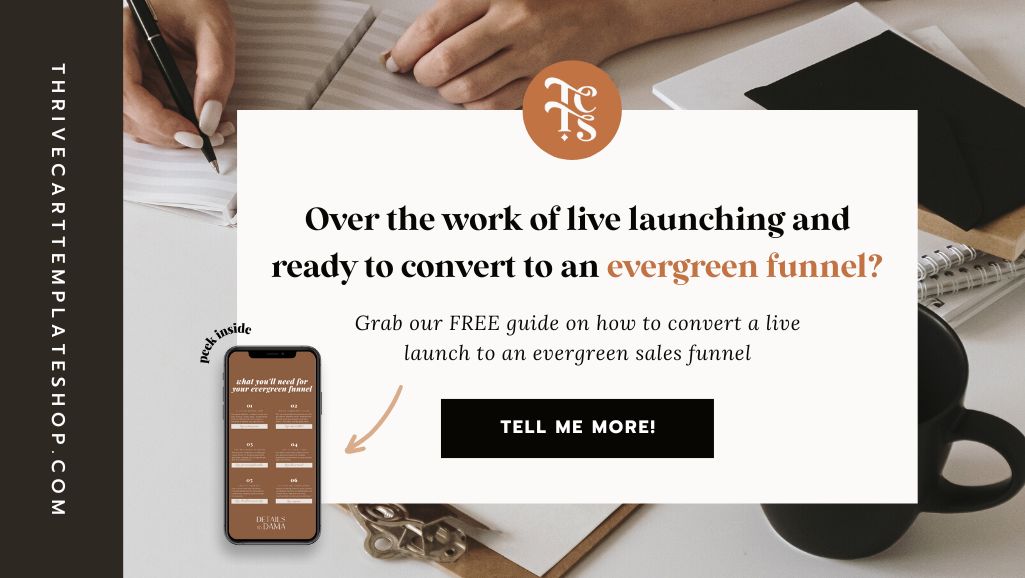 Other posts you may want to check out: