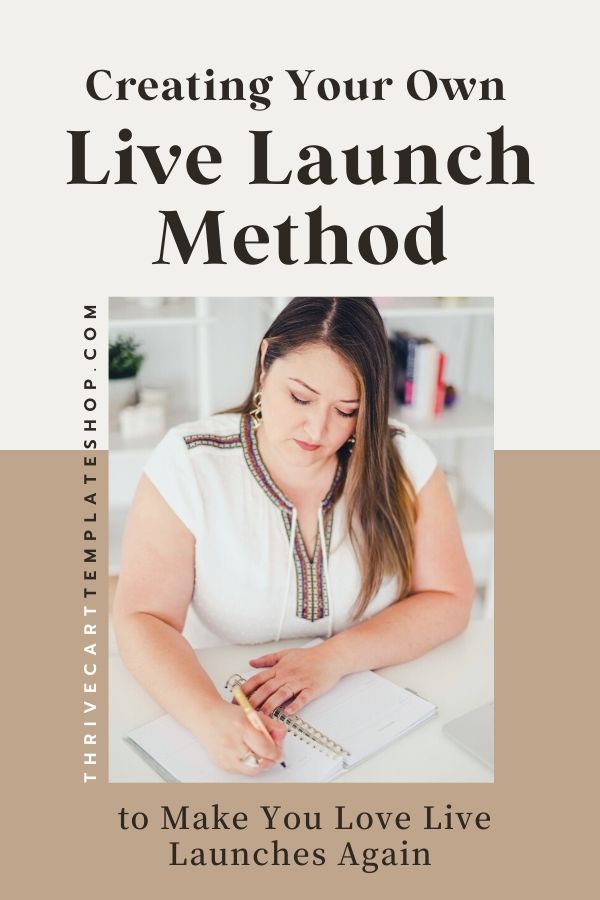 Want to launch your next digital course, group program, or service offer? Creating your live launch method can help you to love live launches again. When done correctly, live launches are a great way to build anticipation and excitement for your product or service. They can also help you to generate more sales and increase profits. In this blog post, we will discuss the steps that you need to take to create your own live launch method. We will also provide tips on how to market your product or service before the launch takes place.
Live Launches vs Evergreen
One of the key differences between live and evergreen launches is that live launches typically generate more excitement and anticipation as they take place in real time. This can be an advantage, as it allows you to build greater momentum leading up to your launch date and capture the attention of potential customers or clients.
However, live launches can also be energy draining.
The best live launch method is one you use in combination with an evergreen launch strategy! That way, you get the best of both worlds.
Get my free resource, How to Go Ever(Green), to create a better evergreen strategy and sales funnel.
The 3 Phases of a Live Launch Method
There are typically three phases to a live launch method: the pre-launch phase, the live launch itself, and the post-launch phase.
1) Phase One: Pre-Launch Marketing
The first step in creating your live launch method is to focus on pre-launch marketing efforts. This can include things like building anticipation and excitement on social media and running email marketing campaigns.
The goal of the pre-launch phase is to warm your audience up and get them ready to buy.
You're not necessarily selling here. You are providing value and building the know, like, and trust factor with your audience. You're getting them excited about what's coming up!
How Long Is the Pre-Launch Marketing Phase?
There is no one-size-fits-all answer here. Typically it's 2-6 weeks before your cart is open.
But it really depends.
I know that doesn't sound very helpful… but here are some things to think about:
How warmed up is your audience? Have you been marketing and showing up consistently? Is your offer's topic completely different from anything you've done before? Does your offer help with a problem your ideal customer is already aware of? If not, you should spend more time during the pre-launch phase creating that awareness first.
2) Phase Two: Live Launch
Once you have built up a strong base of pre-launch marketing activities, it's time to launch live! During this phase, you will typically hold live webinars or live Q&A sessions, where you can engage directly with your audience and answer their questions about your product or service.
This is the period of time when your cart is open, and all of your launch planning is happening.
In most cases, the highest launch days will be the first day the cart is open and the last day. So, if you find yourself in a middle of the cart slump, know that is normal. Don't stop engaging, networking, and talking about your launch!
Email Marketing Tip for Live Launches:
Not everyone on your list is interested in every offer. Maybe it's not the right time, or maybe it's not the correct format for them. That's okay! Add an opt-out feature to the top of your live launch sales emails so those people can opt out during the launch period but still remain on your email list.
How do you do that? With most email marketing providers, you can add a trigger or rule where when someone clicks on a link, a tag is added to their contact record in your email service provider. Then, make sure future promo emails for your launch are sent to everyone except people with that opt-out tag. I've done this successfully with MailerLite, ConvertKit, and ActiveCampaign.
3) Phase Three: Post-Launch
You did it! Your live launch has wrapped up, and sales of your offer have concluded, well done!
Now it is important to continue marketing your product or service in order to drive further sales and increase revenue, especially if you have an evergreen marketing strategy. I recommend making the offer available at full price year-round, and when your live launch is over, redirecting that sales page to the year-round, always-open offer for that product. You'd be surprised how many folks will join after the live launch is over, simply because they missed your emails or regretted not purchasing it during the launch.
This may involve running email marketing campaigns, promoting your product on social media platforms, or reaching out to potential customers or clients through other channels. With the right strategy and planning, a live launch can be an extremely effective way to grow your business.
During the post-launch phase, you'll also want to do a launch debrief to review your live launch.
What Should You Look At For a Launch Debrief?
There are several different factors that you should consider when doing a launch debrief, including your pre-launch marketing activities, live launch performance metrics such as webinar attendance or Q&A session engagement, and post-launch marketing performance.
This free guide on evergreen sales funnels will show you how to analyze your live launch and which pieces to repurpose for your evergreen funnel, includes a fillable workbook to help you identify your funnel's strengths and create an action plan, and my favorite tech tools to get all this done. Grab that here!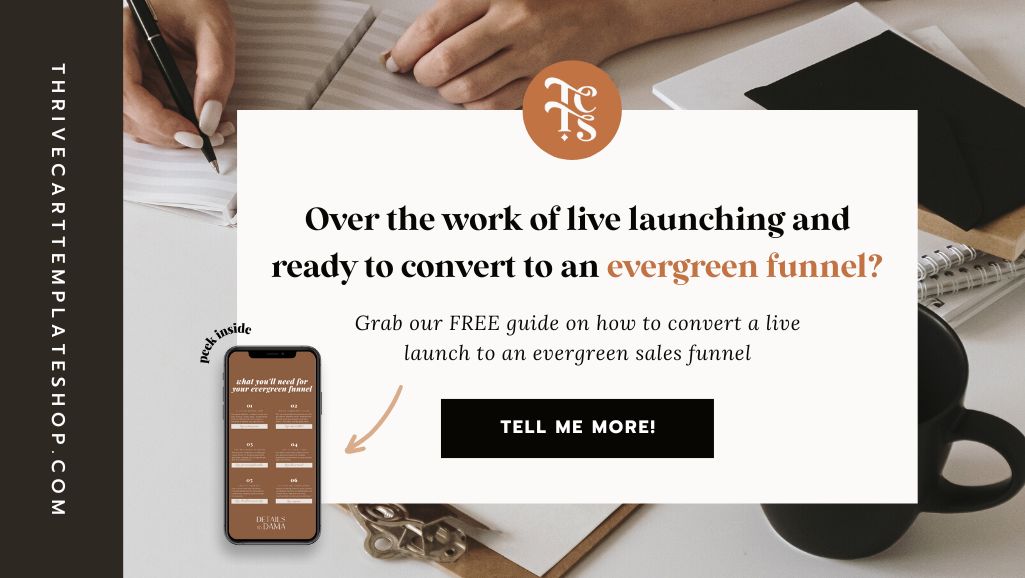 Other important elements to look at include customer feedback and reviews, as well as your overall sales results. By analyzing these various aspects of your live launch, you can identify improvement areas and continue optimizing your live launch method over time.
This data can also help you fine-tune your evergreen sales funnel for the course or offer. And when you're ready to run your next live launch, you'll know exactly what to focus on for even greater success!
Final Thoughts
Whether you are new to live launches or have been doing them for years, there is always room for improvement. By taking the time to plan, strategize, and optimize your live launch method, you can create a successful and profitable launch that will help grow your business over time.
And don't forget to make the more sustainable choice for more revenue and turn your live offer into an evergreen offer, too. Your income, audience, and sales, will thank you later.
With the correct live launch method and planning, you can make more money and love live launches again!
Other posts you may want to check out: